Wow, I did not expect that to happen.
Curious? Read on.
FIRST PERIOD
The Bruins started out the period with a solid 4 minutes, most of which was spent in the attacking zone. David Pastrnak, our next lord and saviour, spent some time in the ensuing minutes getting knocked down and getting back up. That kid is not afraid of contact.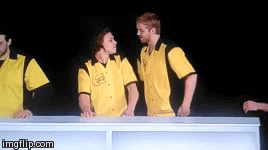 At one point, he passes the puck to Krejcis skates. Too bad Original Czech David couldn't settle the puck down enough to take a shot on goal while the Stars were unawares.
Dallas went on the Power Play at 5:28 thanks to Zac Rinaldo's roughing on Jordy Benn.
No, not that Geordie.
Believe it or not, Kevan made some defensive movements that prevented a shot on goal! Not much else to report because it was a successful PK.
No, not that successful PK. *wink*
The Bruins were able to win a Power Play opportunity when our fair, just Loui Eriksson was interfered with by John Klingberg. Many shots were had but all for naught. Unsuccessful PP.
At 11:59, within the Vulnerable Minute™, Ales Hemsky broke the scoring drought by wristed one blocker side on Tuukka Rask.
Let's define Vulnerable Minute™ with regards to the current Bruins:
That minute when the Bruins allow a goal in the opening minute of a game
That minute after a goal is scored by the Bruins in which they will let one in
That minute after a Power Play when the other team scores
The last minute of the period when a goal is scored against them
Any of 60 minutes in a game in which the Bruins have not shown up

Within a minute-and-a-half, at 13:24 Brad Marchand opened up the Bruins goal scoring with a backhand in the paint. That goal was his 29th of the season and a new personal best.
Things got messy within minutes of that score. Dallas' Antoine Roussel appeared to score after an apparent goaltender interference after skating into Rask's leg. Jack and Brick seemed to be focused on whether or not it was played with a high-stick as well. The goal was reviewed and determined to be a good goal. Julien rightfully challenged the call and lost. Below is actual footage of the refs judgment.
Why even bother Claude?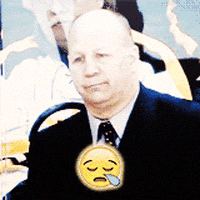 Oh it gets even worse.
With 4:32 left in the First, The Stars' Patrick Sharp took a shot on goal that Tuukka scrambled to save from going over the line. At that instant, Adam McQuaid crashed the net, the puck collided with his skate, resulting in the puck going over the line at the same time that the net was knocked off it's moorings.
also here is the GIF that shows the puck actually crossing the line pic.twitter.com/PI8irMLX3A

— Stephanie (@myregularface) February 21, 2016
It was likely inadvertent, the refs disagreed; it doesn't matter.
The Bruins wrapped up the period on the Power Play.
PERIOD 1B
At 3:12, punchyfacing happened between McQuaid and Roussel. McQuaid won!
Good lord! Big Audio Dynamite? Definitely my least favourite musical project of ex-Clash members. I've always thought Mick Jones was a hack without Strummer. Oh wait, you have no interest in the in-game music selections? FINE, back to the game…
On a Boston Power Play at 13:24, Marchand scored his 30th of the season. Remember when I said the above was his new personal best. Scratch that and replace it with this one. Oh, and it was during the very last second of the PP. You're welcome.
Marchand's 2nd goal pic.twitter.com/YsLk45kGAe

— Stephanie (@myregularface) February 21, 2016
KEVAN MILLER SCORED A GOAL. THIS IS NOT A DRILL. It was a weird, bouncy shot that shouldn't have gone in. But it did, making it a tied game. The Bruins energy seemed to be greatly increased after tying up the game.
Loui would wrap up the scoring in the Second with under a minute to go with what appeared to be a NO GOAL situation. Finally, the Hockey Gods™, and maybe Toronto, were on our side.
here's the overhead of the Eriksson goal pic.twitter.com/CTLNMnl4GE

— Stephanie (@myregularface) February 21, 2016
THIRD PERIOD
Things definitely got chippy after the Bruins scored 3 unanswered goals. Marshy and Eaves had some words. The faceoffs were grittier, with Perfect Patrice showing off one of his many skills that makes him a perennial Selke winner candidate. The MusicPerson played Nine Inch Nails. Anyway, Jamie Benn was shamed for Hooking. I would instruct him as to the acceptable form, but, I don't really care to. Anyway, this led to a Krejci Power Play goal at 4:50, his 14th goal of the season. Brett Connollys empty netter made the Bruins have QUOTA again this season, Beleskeys Power Play goal at 19:38 made it QUOTA + 1. In the closing minutes between those two goals, Bruins Defenseman Torey Krug was felled by Stars Defenseman Jason Demers, who was called for Roughing. I hate Defenseman on Defenseman crime-there are so few of you, can't you all just get along? Here's hoping that Krugs injury is not serious.
TAKEAWAYS
The Bruins scored 6 unanswered goals tonight and seemed fired up after tying the game
Boston drew 7 penalties and scored 3 PPG. That's 42.8% for this game.
Brad Marchand is really good
Patrice Bergeron has 600 career points after a 2-point night