Our intrepid Bruins were on a mission to win three straight at home. Could they do it? They would have to avoid phantom penalties, obvious penalties committed against them that went unnoticed, and an appearance by old nemesis NO GOAL to win.
THE FIRST
St. Patrice, He-Who-Gets-More-Perfect-Everyday, opened up the scoring in the first with his 26th goal of the season at 7:11. Lee Stempniak struggled to keep the puck away from a defender, passed it short to Marchand who stretched to get it, hucking it over in front of the net where Bergy wristed it on net.
Bergeron goal pic.twitter.com/brOUcuscHy

— Stephanie (@myregularface) March 6, 2016
With this, his 607th career point, he surpasses Terry O'Reilly for 8th all time in Bruins scoring. Needless to say, Bergy brought his A-game.
Other fun that happened in the first: A FIGHT! Now, we all know that Bruins Defenseman Adam McQuaid, for better or worse (usually for better), will never turn down the opportunity for punchyfacing. And Washington capitals resident jerkface Tom Wilson obliged by being, well, a jerkface.
No, not that Tom Wilson in his career-defining role as Biff Tannen, this Tom Wilson:
This Tom Wilson, who looks totes adorbs with the even cuter doggie.
ANYWAY, JERKFACE. PUNCHY PUNCH. WILSON LOSES. BOTH GO TO THE BOX FOR FIVE MINUTES.
THE SECOND
In the opening minute of the second, young David Pastrnak engaged in some light boarding on Brooks "Questionable Hits" Orpik. No doubt, Pasta took proactive measures to avoid a blindside hit, even when it was not even close to happening. It's okay, I get it, but you need to learn a lesson, David.
Welcome to the German Hammer's School for Hockey Players Who Don't Hockey Good and Need Someone to Tell Them Acceptable Forms of Things to Do
There are many acceptable forms of boarding. Like hover boarding:
or skate boarding: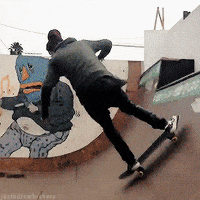 I imagine both of these you would be good at, David. So, keep in mind that pushing an opposing player into the boards is bad, these other things are good. Okay?
NO GOAL appeared 24 seconds after the penalty to Pastrnak was finished, as Torey Krug appeared to have scored on Grubauer. How does NO GOAL do it, popping between rosters in both the AHL and NHL sometimes on a nightly basis? Why can't we waive NO GOAL? It's such a shame, because it was beautiful how Pasta jumped into the play right out of the box.
Barry Trotz, being regrettably competent, conferred with his assistant, Nick Cave
and the officials, ultimately challenging the validity of the goal because the Bruins may have been offside. It didn't look like it but it was ruled that way. Stupid Coach's Challenge.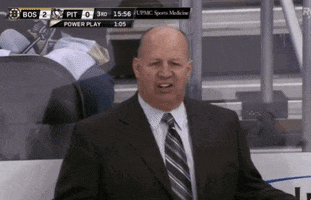 At 5:36, Alex Ovechkin boards Kevan Miller. Miller left the game and the Garden soon after, with an apparent shoulder injury to his previously surgically-repaired shoulder. A scrum developed around Ovechkin, resulting in Brad Marchand going to the box for Roughing. Ovechkin himself received a Five-Minute Major for Boarding. The aforementioned Wilson interfered with Bergeron (Sacrebleu!) at 8:37 to make the Capitals Penalty Kill a 3-on-5. Bergy has a couple of great chances but Capitals goaltender Philipp Grubauer, whose childhood goaltending coach was a brick wall, blocked all sorts of shots.
Karl Alzner scores at 13:08 with assists from Ovechkin and Backstrom. It's his first goal in 22 games because BRUINS.
The Capitals seem to like to challenge the officials but even they saw the "Too Much Man" penalty towards the end of the second.
THE THIRD:
The teams traded penalties, some real, some imagined. New-to-the-Bruins Defenseman John-Michael Liles was called for a phantom hook, yet Taylor Chorney, who literally sat on the Bruins' Landon Ferraro for a full 20 seconds and that was not interference nor even sitting on a dude, went unpenalized. Chara gets a roughing call. Not to be outdone, Team USA shootout specialist TJ Oshie wanted to get in on the action 57 seconds later by interfering with Liles. All this back and forth, so fun.
And this, well, I think Pete Blackburn says it much better than I could.
Well it only took a few games for Acciari to kill a guy. That guy was Brooks Orpik. RIP.

— Pete Blackburn (@PeteBlackburn) March 6, 2016
Acciari lays out Brooks Orpik pic.twitter.com/o4AbCx8tZQ

— Pete Blackburn (@PeteBlackburn) March 6, 2016
Orpik needed stitches. Too bad, Jerkface.
OVERTIME, BECAUSE THIS IS WHAT WE DESERVE:
Icing. Back and forth. Prolific scorer, Matt Niskanen scores for the Caps at 2:36. Bruins get a point, Capitals gain two.
STRAY OBSERVATIONS:
Seidenberg and Krejci both served up the puck to Capitals players in their defensive zone. YOU CAN't DO THAT GUYS!
How pissed off must Tuukka be when he has to make saves based upon stupid moves like that? I propose making his nickname "You Owe Me Bigtime, Defensemen".
The best defensive pairing of the night might have been Adam McQuaid and Ryan Spooner. McQuaid dives to block the shot allowing Spoons to sail the puck 180 feet down the rink.
The Bruins seem to have their usual Second Period Malaise, only in The Third Period. They like to mix it up.
I could barely contain my excitement at having two Germans on the ice tonight, even if one was on the other team.
Grubauer = + (He's a Gru farmer!)
Music notes: Ew for playing "Love in and Elevator" during the Bruins Timeout. Ron Poster is still wicked good at playing pop songs on the organ.