So here we are, barely a week after the trade deadline and John Michael Liles' former team is here for a visit! Bruins have had a pretty impressive run, albeit with some ugly wins of late- but finally we're playing a weak opponent.
You know what that means!

…game.
Right you are Admiral Ackbar, right you are. Luckily we have General Calrissian manning the 4th line to help out!

They do indeed.
Bruins are coming off a killer goaltending duel in Tampa in which they won 1-0 in OT, and the Canes beat the sad, pathetic Sens (seriously guys, maybe give your most gifted goal scorer minutes that don't involve Chris Neil, mmkay? 4-3 in the shootout, coming off of Jeff Skinner's buzzer beater with 10 seconds left in regulation to tie the game (the second time he's done that this season, which is nut. Bruins: how about we don't let this happen, mmkay?)
Okay, some lines for alls y'alls:
Bruins
#NHLBruins first rushes in AM skate:
Eriksson-Krejci-Pastrnak
Marchand-Bergeron-Stempniak
Beleskey-Spooner-Hayes
Ferraro-Acciari-Connolly

— Boston Bruins (@NHLBruins) March 10, 2016
Nothing to report here, can't be messing with a good thing
#NHLBruins D pairs in AM skate:
Chara-Liles
Morrow-Seidenberg
Krug-McQuaid
K. Miller-Trotman

— Boston Bruins (@NHLBruins) March 10, 2016
Nice to see Kevlar skating, he looked none to happy after that Ovechkin hit, but looks like Kevlar and Trotman will be working with Randall to feed Neely Nachos.
(feel free to photoshop Zach Trotman's head on Leia if you are a terrible human being)
And the the Birthday Sparkly BAMF looks to be in net.
Tuukka Rask the first goalie off the ice at morning skate. #NHLBruins

— Boston Bruins (@NHLBruins) March 10, 2016
Hurricanes
Joakim Nordstrom – Jordan Staal – Elias Lindholm
Jeff Skinner – Victor Rask – Phillip Di Giuseppe
Nathan Gerbe – Riley Nash – Brad Malone
Brendan Woods – Jay McClement – Chris Terry

Jaccob Slavin – Ron Hainsey
Noah Hanifin – Brett Pesce
Michal Jordan – Ryan Murphy

Cam Ward
Eddie Lack

Injuries and scratches: James Wisniewski (IR ACL), Justin Faulk (lower body), Andrej Nestrasil (fractured vertebra)
That forward lineup ain't too great and super-awesome happy fun time defenseman Justin Faulk is out of the lineup. On the surface, I like the look of this.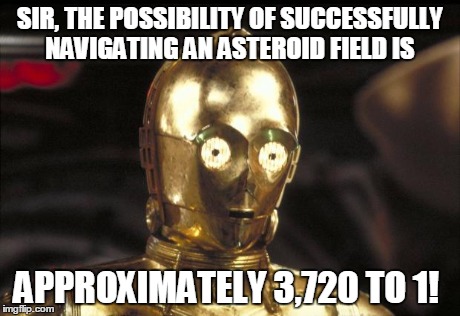 But ignore Admiral Ackbar at your own risk kids!
Okay, lets drop the puck!