Or the Adams Northeast Flortheast Atlantic Division, at least…
As the Mamas and the Papas say,
Monday, Monday, can't trust that day…
Remember, it only gets better from here, so happy Monday morning, folks!
Stone cold killer David Pastrnak has strung together a few solid games, as has his team.
It's nice to be in first place in the division. Both Florida teams have two games at hand on the Bruins, but with any luck, they'll blow a few, and our road trip will go well. Since it's a road trip, I'm going to assume it'll go even better than our recent home stretch, which hasn't been too shabby at all. Anyway, like the Carpenters, the Bruins are on top of the world, looking down on creation, and are also lacking an explanation – but I'll take it. Who needs an explanation for first place, anyway?
Bruins don't play 'til LATE tomorrow night, and I think I've got a case of the Mondays.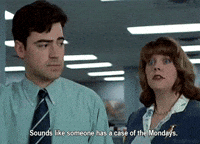 What's on tap, kids? Coffee and sadness here, as usual.