The First Round is winding down, having it's first elimination. Ah, Red Wings, we knew ye all too well.
There were other games, as well, most of which were carried by Comcast owned NBC Universal Networks but called by local Fox/ CSN crews. One game ran waaaaaaayyyyyyyyyy too long for human eyes to watch so we set our robot, Bobbytron 4000, to the task.
---
Detroit Red Wings @ Tampa Bay Lightning (Lightning win series 4-1)
We are told that this series has been the most penalized series of the 2016 playoffs.
It's just like the legend always said:
One Box to rule them all,
One Box to find them,
One Box to bring them all
and for two minutes bind them

In the Land of Tampa Bay where the Dali paintings lie.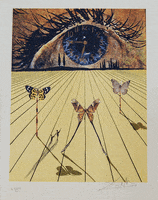 (Waiting for the time to pass in the box)
First Period:
The first period starts out a little slow. Both teams get some chances. Penalty time and shots on goal are about even. This game is surprisingly low key, after the energy and violence of the first three, with no roughing or fighting penalties.
Pavel Datsyuk comes close with a post-clanger. Ben Bishop is actually pretty lucky it didn't bounce off his back and into the net.
He would get beaten on the opposite post side in an eerily similar way later in the period, with the same lack of scoring.
Second Period:
For most of theSecond Period, it's all about Detroit going to the penalty box. The most exciting part of this stretch of time is when they got a couple of shorthanded breakaways on neutral zone giveaways/takeaways. The Bolts were actually being outshot significantly this period. 14-6 SOG in spite of 5-1/2 minutes of Tampa Bay power play time.
Petr Mrazek is looking sharp from the get-go. Bishop has now settled in, making the saves he has to including a couple of scary ones.
Something is apparently wrong with Tyler Johnson – he stops getting ice time late in the Second, and this will happen again in the Third, actually going down the tunnel briefly during the period.
Late in the period, the Lightning take a penalty, getting boxed in really hard for about 1:20, then getting a couple big chances. At this point they wake up. and the pace of the game picks up.
Third Period:
At this point, both teams recall – "this is playoff hockey!"- and they finally start moving their skates!
The pace is much faster and whistles are few and  hard to come by. They still only get about 10 shots on goal apiece, but there is more traffic near the nets. Bishop looks particularly sharp now, but pucks are not going in net on either end of the rink. Just when you think the game is going to OT, with ~1:43 left in the 3rd period, Alex Killorn finishes his chance and breaks the tie. Note the nice feed from Ryan Callahan.
another angle pic.twitter.com/URWJ0PUlmr

— Stephanie (@myregularface) April 22, 2016
The Red Wings try to come back from this, but aren't able to get good shots off. Then Jason Garrison takes a really foolish penalty, by cross-checking Henrik Zetterberg with only a little over a minute left and a one goal lead. But the Red Wings don't seem to get the memo that there is a delayed penalty, and allow the clock to wind down to 19:16 before taking a shot and giving away possession. Once the power play begins, they aren't able to tie it up.
Tampa Bay wins the game 1-0, with only 24 shots on goal to Detroit's 34.
Tampa wins the series, 4 games to 1.
The Red Wings are the first team to be eliminated from the #StanleyCup playoffs. pic.twitter.com/VxbOu9ZOWl

— NHL on NBC (@NHLonNBCSports) April 22, 2016
Tonight's #TBLvsDET 3 Stars:

⭐️⭐️⭐️ KILLER
⭐️⭐️ Mrazek
⭐️ #BISHPLEASE

— #GoBolts (@TBLightning) April 22, 2016
---
New York Rangers @ Pittsburgh Penguins
Last time out, the Penguins played more confidently in front of Matt Murray, outshooting the Rangers 31-17 en route to a 3-1 win. Can the Pens keep it up? Can the Rangers dig deep and even up the series?
FIRST PERIOD
Barely over a minute into the game, bad gap control by the Rangers gives Ben Lovejoy time and space after a zone entry for a big slapshot. Lundqvist coughs up a big rebound and the Pens' D doesn't catch up to Eric Fehr who buries it. 1-0 Pens.
Almost seven minutes in, Rick Nash takes a bad interference penalty in the offensive zone. The Pens switch from a right-side overload to a 1-3-1, Evgeni Malkin fires a shot from the point which Sidney Crosby deflects from the bumper spot past Lundqvist. 2-0 Pens.
Four minutes left, the Pens clog up the perimeter in their own zone and Kevin Klein makes a brutal giveaway to Conor Sheary at the point. Sheary turns on the jets and wrists one past Lundqvist shortside. 3-0 Pens.
30 seconds later, Malkin drives into the Rangers' zone, swoops around the net and tucks in the wraparound. WAVED OFF! Very clear incidental contact by Kunitz in the crease. Is this a wake-up call for the Rangers?
SECOND PERIOD
So, yeah, about that wake-up call. Three and a half into the second, Evgeni Malkin draws a holding penalty on Dominic Moore behind the Rangers' net. The Penguins work the umbrella scheme from the half-wall, a pass comes out to Malkin at the point again, and he blasts one home for a 4-0 lead.
A couple minutes later, Alain Vigneault decides to pull Lundqvist and put in Raanta. It's the second time Lundqvist has gotten the hook this series.
The Penguins continue to play confidently in front of Murray, clogging up the perimeter they previously left unchecked with Zatkoff in net. The Rangers' D has difficulty joining the offense and their forwards can't get anything going. The period ends with the Penguins up 4-0.
THIRD PERIOD
Another dumb early penalty by the Rangers, this time by J.T. Miller with a slash on Malkin as he carried the puck across the Rangers blue line. The second power play unit comes on and dumps the puck into the Rangers' zone. The Rangers defense completely forgets to cover Malkin who's wide open for a tap-in at the top of the crease. 5-0 Pens.
Little else of interest happens. The only fans left in the building when the game ends are Penguins fans and boo-birds. 5-0 is your final, and the series moves back to Pittsburgh for a 3pm manatee matchup on Saturday.
---
Nashville Predators @ Anaheim Ducks (Series tied at 2-2)
Nashville needs to get their act together. The defense that looked great in Anaheim has looked poor at home. Defensive partners Roman Josi and Shea Weber did not have good nights. Ryan Ellis looks more vulnerable. C'mon guys!
Also, I am going to just name everyone Ryan from now on. I swear, each side has about 20 players named Ryan. When in doubt, it's Ryan.
First Period:
The First Period was kind of quiet, well, except for the minute-plus. David Perron shoots the puck low on Pekka Rinne, the short rebound bounces to Ryan Getzlaf, who is waiting in front of the net to push it in between Rinne's legs.
Getzlaf goal pic.twitter.com/vmG3O0uOG9

— Stephanie (@myregularface) April 22, 2016
The Predators looked a little slow out of the gate but seemed to want to make contact to remind the Ducks that there was another team on the ice. Filip Forsberg gets a shot blocked on him. Ryan Johansen is visible in the this period for a change and actually took a shot! (He usually is invisible until,the Third, during which he looks gassed). Roman Josi is trying to get in on the hitting and scoring action. (Insert your joke of choice here). He steps into a shot, which sails wide. During this sequence, the Preds have great zone time, too bad the Ducks decide they want to defend.
At 7:41, Shea Weber is called for Delay of Game when he sends the puck over the glass. Anaheim would enjoy their Power Play for 34 seconds due to Perron getting called for Tripping Ryan Ellis. As Perron falls, he kicks out his leg intentionally into Ellis' leg. The team s would play4-on-4 for 1:26, then the Predator would have their first Power Play opportunity for, you guessed it, 34 seconds.
Cam Fowler gets a Delay of Game penalty at 16:53. He was pressured by James Neal behind the net, sending it over glass.
With seconds to go in the period, it seemed that there were too many Preds on the ice. Turns out, nope, just the right amount.
Second Period:
Twenty-six seconds in, the Predators get their first outright Power Play when Ryan Garbutt goes to the box for Tripping Forsberg. The Preds power play is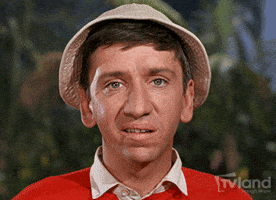 Miikka Salomaki gets to visit the penalty box at 4:10 for Hooking Ryan Kesler. The Ducks Power Play is
At 11:26 Mike Fisher ties the game, fed from behind the net by Colin Wilson.
Fisher goal pic.twitter.com/p49nb8syqu

— Stephanie (@myregularface) April 22, 2016
At this point Nashville has taken 19 shots on goal to Anaheims's 8.
The Ducks go on the Power Play at 12:45 when Nashville's Colton Sissons Interfered on Perron.
This lasts for 5 seconds when Perron High-Sticks Fisher. The teams go 4-on-4 for 1:55 and no one scores.
At 15:55, a pair of penalties are assessed on Viktor Arvidsson (Unsportsmanlike Conduct) and Simon Despres (Slashing). During the 4-on-4 play, Nate Thompson tucks a puck behind Rinne's left leg to score at 17:04. The Ducks lead 2-1.
Thompson goal pic.twitter.com/hjEfEljRoZ

— Stephanie (@myregularface) April 22, 2016
At 18:56, Jamie McGinn tacks on an additional score. Ducks lead is stretched to 3-1.
McGinn goal pic.twitter.com/r3E6p4FkmY

— Stephanie (@myregularface) April 22, 2016
Musical Notes: The music guy/gal playing "When Doves Cry" during a stoppage in play late in the period. Rest in Peace, Prince.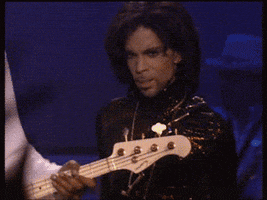 The organist also plays "Little Red Corvette". "Purple Rain" is played later.
Mike Ribeiro Spears Corey Perry at 19:50. The Power Play will span the periods…
Third Period:
…and get killed off.
Basically, not much happens in the Third. Many penalties on both sides, of which only the double Roughings that Weber racks up on Perron, who frankly deserved it. You can't lose it like that Cap'n.
No PPGs were to be found tonight.
At 16:52, Andrew Cogliano adds one more. Jakob Silfverberg steals the puck from Josi and gets it back to Cogliano, who snaps it on goal.
Cogliano goal pic.twitter.com/A9sgDgEzO8

— Stephanie (@myregularface) April 22, 2016
The series is now tied 2-2. I had this one going to 7, so, that may just happen. One of these teams has to win a game at home. Just one.
---
Chicago Black Hawks @ St. Louis Blues
This jerk again
We need to get #PatFoley trending for blasting NHL for late start time in #StLouis. #Blackhawks. #CHIvsSTL

— Zig Fracassi (@ZigFracassi) April 22, 2016

Yes, 9:30 puck drops for Non-West Coast games is insane. I guess I was wrong on Chicago's soul being sold to NBC because for a crucial game; they didn't even use an NHL on NBC announcing crew for this one, opting to use the local Chicago CSN affiliate. They picked a good time for it since they risked losing many viewers mid-game to sleep. We begin tonight's recap in the Second Period, as nothing of value took place in the first. Seriously, it looked like a Calgary – Carolina game out there.
Second Period
With Artem Anisimov in the penalty box for Tripping, Marion Hossa opened the scoring of this game at 11:32 with a goal  Brian Elliot would like back.
Marian Hossa shorty pic.twitter.com/XT1RS3Vq4I

— Pete Blackburn (@PeteBlackburn) April 22, 2016

Not wanting to have the Power Play go to total waste, Jaden Schwartz rips home a slapper 57 seconds later to tie the game back up at 1.
Jaden Schwartz bomb pic.twitter.com/Ebl8uPqABN

— Pete Blackburn (@PeteBlackburn) April 22, 2016

A few minutes later Anisimov gets his second goal of the playoffs knocking in a rebound to make it 2-1.
Anisimov goal pic.twitter.com/22PdyFMBhg

— Stephanie (@myregularface) April 22, 2016

The period ends with the Artemi Panarin firing one home at the 19:59 mark to make it a 3-1 game.
Kane to Panarin to beat the buzzer pic.twitter.com/AfGpmFRjMo

— Pete Blackburn (@PeteBlackburn) April 22, 2016

Third period
I've mentioned it in a Morning Free Association before, but this Blues team feels different than the Blues of the past, they've got a different fight in them. Robby Fabbri gets the comeback rolling with his first career playoff goal at 6:57.
Robby Fabbri's first career playoff goal pic.twitter.com/TQTTtyEUtT

— Pete Blackburn (@PeteBlackburn) April 22, 2016

Your leaders have to lead, and that's exactly what the Blues got with David Backes scoring on a redirect at 14:50 to tie the game up.
The Blues tie it and hoooo Blackhawks fans are sweatin' now pic.twitter.com/S3JkV3w9x9

— Pete Blackburn (@PeteBlackburn) April 22, 2016

That's all she wrote on the third period and this one goes to everyone's favorite heart stopper, overtime.
Over Time:
No goals in the first over time, both goalies made some good saves, and after 83:07 of hockey we have a winner, as Patrick Kane gets his first goal of the playoffs, beating Brian Elliot on a wrap around.
Kane wins it in double overtime, saves Blackhawks season pic.twitter.com/ih06wi9LaX

— Pete Blackburn (@PeteBlackburn) April 22, 2016

#DumbJerk.
Game 6 is Saturday night at 8:00EST (yay, a normal time!) in Chicago.