Here we go again!
I'm going to take a page out of the book of my homeroom teacher through high school, Ms. Santucci, and greet you in her classic deadpan delivery,
Happy Wednesday, claaaaasssss.
After a lovely night off, we return to playoff action tonight. While I thought the NHL usually held off on beginning a round until the entire round before it has ended (did I imagine this?), here web are: round two (AKA the Eastern Conference semifinal) begins tonight.
John Tavares and the Islandsrs will open up the second round in Tampa Bay. The Predators will be in Anaheim to play game seven of their Western Conference Quarterfinal series against the Ducks.
Maybe we'll get lucky and see a perfectly executed Flying V.


Or, maybe it'll be a bunch of the same old back and forth ping pong hockey action.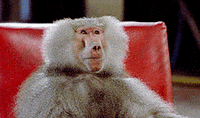 Either way, it'll be great, because there's nothing better than playoff hockey. You know, except when your team is actually involved and actually wins.

Anyway, what's on tap this morning?