Hello. Have the Bruins started playing yet? No? Drats.
We only have 66 more days to go.
[waiting name="BruinStart"]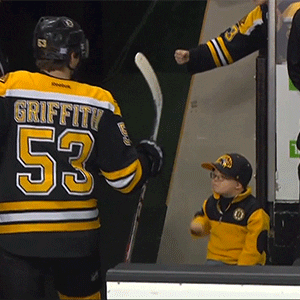 While I don't usually check out Sports Illustrated for hockey, I happened upon a couple of articles that mention Bruins players:
This first one talks about the social media savvy of NHL players and includes our own Ryan Spooner. Sample tweets:
Thanks @bearingsband for the shirt and a great show last night! pic.twitter.com/gkpQIfZCaB

— Ryan Spooner (@RSpooner2376) July 3, 2016
Advice on sites to use to learn a new language?

— Ryan Spooner (@RSpooner2376) July 29, 2016
The second is about the undrafted players to watch for in the East.
The real shame here is that guy was in my town on Friday while I was waiting for my car to be repaired elsewhere. Dammit.
All smiles. #WarriorPRO #TeamNB #Bruins pic.twitter.com/F1PDCSwIn8

— Warrior Hockey (@WarriorHockey) August 5, 2016
In other news:
Jeremy Lauzon suffered a near career-ending injury in April and returned to play for the Memorial Cup in May due to his "off the charts" compete level. He's looking forward to camp in the Fall, and staying in Boston.
Bearly on Topic recorded a podcast yesterday, kinda. The Hockey Podcast Gods were not with us and decided to give us gifts called "Technical Difficulties". So, we're all going to have to wait one more week.