"Ice Girls" have been a fixture of the NHL for years, but are their days numbered?

Last tuesday, the Edmonton Oilers announced that they would be disbanding their Ice Girl organization.
Oilers Entertainment Group confirms the discontinuation of the Oilers Octane. The organization is looking for a new direction related to the fan experience, both in-game and in the community, as we head to Rogers Place for our inaugural season. Details will be announced in the coming weeks. We extend a sincere thank you to all members of Oilers Octane past and present, in particular Dr. Mailie Harris, for their contribution to the organization.
Then, on Saturday, the Boston Bruins announced tryouts for their new co-ed Boston Bruins Promo Team. This group will perform much the same duties as the ice girls team — on-ice duties at home games, handing out promotional materials, attending community & promotional events, etc. Meanwhile, on the front page of the Bruins website, all links to the Ice Girls have been removed, and replaced with the link to the new group. Applications for the new group are available on line and must be submitted by 5PM on Wednesday (Aug 24th).
Clearly, there have been some controversies about the inherent sexism involved in having a group of all-female cheerleaders on ice skates during stoppages in play. And lets be honest – having ladies of a limited size and age range skating around wearing miniskirts & tube tops is not exactly subtle.
It's a strange and cynical phenomenon, and surprisingly, really a 21st century phenomenon. Having scantily-clad women performing the dry-scrape has only been around since 2001. Both the Flyers and the Rangers previously abandoned their ice-girls squads, but Philly quickly reinstated theirs. However, several teams have had the foresight to go co-ed, heading off at least some of the controversy.
Of course, 2 teams is not in and of itself a trend. However 2 teams changing their stance within a week of each other is an indication of something in the air. Even if there is change coming, we all know that someone is going to be hired to fire a t-shirt gun at hapless fans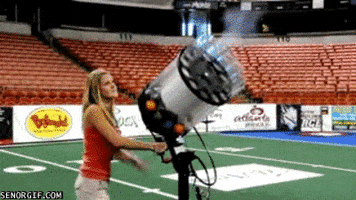 and hand out hideous bobblehead dolls.