The Edmonton Oilers have a new mascot. Behold, Hunter the, uh… Bobcat?
Lynx?
Uhhh… wildcat?
Yeah, Wildcat. We'll go with that.*
The Edmonton Oilers have a mascot now… Meet Hunter: pic.twitter.com/KuRrpW6AuY

— NHL on NBC (@NHLonNBCSports) September 26, 2016

(Thank you for this visual, NBC Sports )
Well as you can imagine, this was not the first mascot idea that they considered. They actually had ten other ideas which they rejected. We the embedded reporters of BobbyToBergy got an exclusive look at these runner-up ideas, and are proud to share them with you today.
*I'm pretty sure that 'Wildcat' didn't even occur to the Oilers in spite of the obvious oil-drilling reference. They actually went to the local zoo and asked "What the hell lives around here?" So he's a Lynx.

You might not remember their last mascot, 'Dumpy',

Dumpy really captured the essence of the 2009-2015 Oilers, but they were eager to reinvent themselves to go along with the latest regime change.
---
The 10 runner-up mascot suggestions were:
#10: Thumper, the Oil Drum

Rump-pa pum-pum
Thumper looked good initially, but the legal team decided that whacking himself in the head would bring unwelcome attention to the looming concussion litigation in the NHL.
---
#9: Truculence, the Oil Truck

"Truculence" had an extended tryout, but was just too clumsy.
You might have caught sight of him last season working as a defensive coach for the Oilers.


He tried to reinvent himself, but it just didn't work out.
---
#8: Oiled Up!, the Party Animal

"Oiled Up!" was really fun, but it was thought that she would be a bad influence concerning responsible alcohol consumption. So alas, it was a no-go for her.
---
#7: Valdez the Oil Duck
Great concept! But since the Anaheim hockey club is called "The Ducks", there was some concern that Valdez would run into some sort of trademark infringement problem. They tried a re-spin of Valdez in the form of a cormorant (pictured above), but there was still sufficient concern, that the concept was dropped altogether.
---
#6: Baby Oil, the Fashion Model

Rejected as not kid-friendly.
I'm kinda sad about that one.
---
#5: Slick, the Oiled-up Body Builder

AAAAAAAGGGGGGHHHHHHHH!!!! Ctrl-Alt Un-see! Ctrl-Alt Un-see!
He also created unforeseen problems for those who he walked in front of around the arena.

---
#4: Derek the Wacky Oil Worker

Derek seemed like a good idea at first, but in the end he was just too annoying.
---
#3: Greasy the Robot

Greasy seemed like a good candidate: He tested well with both children and adults. He didn't offend social conservatives. He didn't leave a dangerous oily trail behind him.
However, it all fell off the rails when his unseemly hobbies came to light.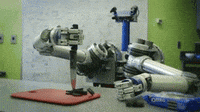 Apparently he listed "KILL ALL HUMANS" as a personal goal on his resume', but no one noticed until after they started checking his references.

---
#2: Bernie the Rig Fire

The Fire Marshal nixed this idea pretty quickly without any further comment.
---

#1: Freaky the Clown

Freaky almost made it as the next mascot. All kids love clowns, right?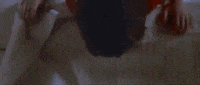 It really was a toss-up between Freaky and Hunter, but in the end, the Oilers decided that they wanted to go with something a little more 'edgy' than a clown.