The Bruins placed both Adam McQuaid and Kevan Miller on IR yesterday. While both players will miss the first three games of the season, it seems that the injury to Miller may keep him out for an extended period of time. While this is bad news for the injured defensemen, it's good news for the first-year players Rob O'Gara and Brandon Carlo, who will both be on roster for the first three games.
If you're not into the article, Boston Globe Bruins beat guy, Fluto Shinzawa,  notes this for you quickly:
Kevan Miller and Adam McQuaid shown as being on IR. If so, will both miss first three games.

— Fluto Shinzawa (@GlobeFluto) October 11, 2016
Fluto also had a little fun with a list of superlatives for this NHL season. My favourite was the category of "Best Danes", none of which were Dane Cook.
Also, as noted yesterday in the MFA comments as it happened, Seth Griffith was claimed off waivers by the Toronto Maple Leafs. Now-former teammate Malcolm Subban tweeted this reaction:
😭😭😭😭😭 pic.twitter.com/QKDiQAqiuW

— Malcolm Subban (@SubbZero30) October 11, 2016
---
We're one day away from the start of the Bruins season. Tomorrow night, we will have a game thread starting around 6pm. This is happening.
Yes, George Michael, it is.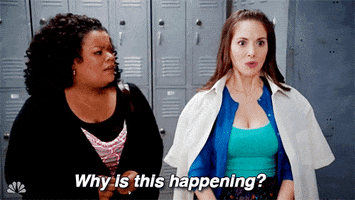 Because, Annie, it's what we do!
So, dust off your gifs and your commenting skills, talk about what you're eating and drinking!