Tonight, the Bruins are in Nashville to play the Predators at Bridgestone Arena. I've actually been to this particular venue and would love to share some things specifically about it…in another post. I will say that the fans there are special, bless their hearts.
Head Coach Claude Julien has confirmed that Colin Miller is out tonight, still dealing with his lower body injury. As for another defenseman, Adam McQuaid, he's technically a game-time decision.
McQuaid good to go? Julien: "He says he is, so as long as everything is OK by game time, he'll be in."

— Boston Bruins (@NHLBruins) January 12, 2017
How are the Predators doing (asked no one)? Let's check! Through 41 games, they're 18-16-7 with 43 points and well out of a playoff spot. This is a shame because they were one of the more frustratingly entertaining playoff teams from last season. All Star Defenseman, PK Subban, has been placed on IR with an upper body injury (suspected to be a disc) hasn't played a game since December 15th. He will be re-evaluated in a couple of weeks.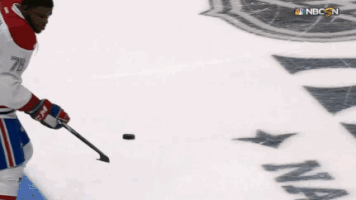 Despite his All Star nod, we wasn't having a great season, his first in Nashville. But, the fans love him, so, there's that. Honestly, he's such a cool guy with a good heart, it's hard not to like him, off the ice. I can confirm that on the ice, it will take him a while to get the Habness out of his play; he still has some of those particular affectations that Peter LaViolette would be wise to coach away.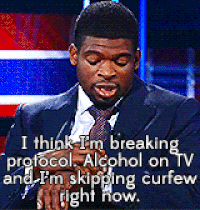 The rest of the Perds defense is struggling. Roman Josi is having an off-year after his former D partner was traded to Montreal. His current partner, Ryan Ellis, is fairing better, when he can stay on the ice. And old mistake friend, Matt Irwin has found himself on the actual goddamned roster, for nearly the full season. So, we could make a drinking game out of his mistakes if we wanted because he's not our problem now.
Also, no James Neal tonight. So the team douchecanoe level is down by about 50 percent.
LINES
BRUINS FORWARDS:
Looks like Jimmy Hayes is the odd man out tonight. I have no idea if he gets to enjoy nacho duty but I will tell you that the arena makes promises about hot dogs that they don't necessarily keep.
#NHLBruins lines in AM skate:
Marchand—Bergeron—Pastrnak
Vatrano—Krejci—Backes
Schaller—Spooner—Nash
Czarnik—Moore—Blidh
Hayes

— Boston Bruins (@NHLBruins) January 12, 2017
BRUINS DEFENSE:
#NHLBruins defense in AM skate:
Chara—Carlo
Krug—McQuaid
Liles—K. Miller
Morrow

— Boston Bruins (@NHLBruins) January 12, 2017
BRUINS GOALTENDERS:
Rask
McIntyre
---
PREDATORS FORWARDS:
Forsberg – Johansen – Arvidsson
Sissons – Fisher – Watson
Fiala – Ribeiro – Smith
Zolnierczyk – Jarnkrok – Aberg
I love the names on this last line. They just roll off the tongue.
PREDATORS DEFENSE:
Josi – Ellis
Ekholm – Irwin
Bitetto – Weber
PREDATORS GOALTENDERS:
Saros
Rinne