Tonight's game is the third and final one between the Boston Bruins and the Pittsburgh Penguins this season. Unfortunately, Pittsburgh has asserted their dominance by winning the first two, most recently on Sunday. Needless to say, the Bruins need to win this one to avoid the season sweep and, much more importantly, because they need the points. Currently outside of the playoff structure having played 5 more games than the two teams that are above them, Ottawa and Toronto, the Bruins really fucking need all the points now.
There was no Bruins practice this morning, other than presumptive scratches (plus Bergy) that were getting extra time on the ice. It's nice to see that the team is fully stocked with healthy players. Let's hope it stays this way for a long time. Luckily, they will have Brad Marchand, who had a hearing with the dreaded Department of Player Safety for a "dangerous trip" on Detroit dirtbag defenseman Niklas Kronwall and was only fined $10,000. Only.
Brad Marchand fined $10,000 for 'dangerous trip' https://t.co/OxEoqAxRM6

— NHL on NBC (@NHLonNBCSports) January 26, 2017
Boston needs to put in a full effort for 60 minutes. Don't we get tired of saying that, thinking it, hoping that they'll do it? C'mon, guys change the narrative!
Bring your fucking A-Game!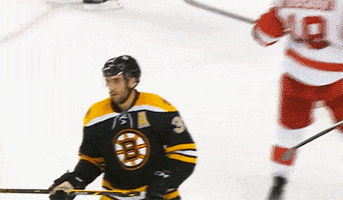 LINES (All taken from Daily Faceoff)
BRUINS FORWARDS:
Marchand – Bergeron – Pastrnak
Vatrano – Krejci – Backes
Beleskey – Spooner – Nash
Schaller – Moore – Hayes
BRUINS DEFENSE:
Chara – Carlo
Krug – McQuaid
Chiller – Killer
BRUINS GOALIES:
Rask
McIntyre
---
PENGUINS FORWARDS:
Sheary – Crosby – Rust
Kunitz – Guentzel – Hornqvist
Hagelin – Bonino – Kessel
Kuhnhackl – Fehr – Wilson
PENGUINS DEFENSE:
Cole – Schultz
Maatta – Daley
Dumoulin – Ruhwedel
PENGUINS GOALIES:
Murray
Fleury