Bruce Cassidy
5'11", 176 lbs
Interim Head Coach, Boston Bruins

Cassidy is expected to be a candidate for the permanent head coach job, and this season is viewed as an audition.
However (according to Bruins President Cam Neely), GM Don Sweeney intends to approach several candidates for that job and decide on one over the summer.
But who is Bruce Cassidy? Who is our team's new coach?
Well first off, call him "Butch", not "Sundance", not "David", and definitely not "hop-a-long".
Cassidy grew up in Ontario, and thus was required to play hockey or risk being shunned to the maple syrup mines.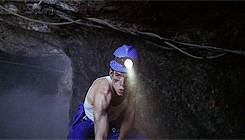 He played defense for the cleverly named Ottawa 67's in juniors, and was drafted 18th overall by the Chicago Blackhawks. And in a time-honored hockey tradition, recurring knee problems had limited his career. He played 36 games for the Blackhawks as a defenseman between 1983 and 1990, spending most of his time playing in the minors in AHL and IHL affiliate teams. After that he spent three seasons in Europe, up until 1994 at which point he returned to the IHL's Indianapolis Ice.
As most Bruins fans are aware, he was recently the coach of the Bruins AHL affiliate team, the Providence Bruins. He was hired as an assistant in 2008, and later replaced previous head coach Rob Murray in 2011. As P-Bruins coach, he led them to a record 207-128-45 over 5 years, with 4 playoff appearances (and 4 early playoff exits). This includes having the best record in the AHL in his sophomore season as the P-Bruins bench boss. Of course, that was not his first job coaching professional hockey.
On retirement as a player, Cassidy had several positions coaching in the minors, for teams in the ECHL and the IHL, where he had some success.
But, what is most interesting to Bruins fans is his previous experience coaching in the NHL. As many Bruins fans have recently become aware or may remember, Cassidy was the head coach of the Washington Capitals for the 2002/03 season, and the first 28 games of 2003/04. He was hired by the Caps's GM George McPhee (now the GM of the Las Vegas Golden Knights) from the Ottawa Senators' (then) AHL farm club, the Grand Rapids Griffins, where he was the AHL's Coach of the Year.
In his first year as head coach, the Caps were 2nd in their division with a respectable 39-29-8-6 record. They would eventually lose in the playoffs 2-4 to the Tampa Bay Lightning (being knocked out in a triple-overtime game 6). This is where the fun ends (or begins?).
The next season, he led the Caps to a last-place record of 8-18-1 before losing his job. Along the way, he failed to use Jaromir Jagr effectively, and got into a public pissing match with his roster, that required a public apology.
Cassidy had had a 'falling out' with Calle Johansson during the playoffs, resulting in the defenseman's benching for most of game 6, got into a 'screaming match' with an underperforming Jagr, a near-violent argument with D-man Brendan Witt, and then a post-game rant in which he accused his players of using their "pregnant wives and sick children" as an excuse for poor performance, stepping over 'the line' by bringing in the players' family members and private lives.
Cassidy mixed up the forward lines, which led to recurring disagreements between the coach and his veterans, including Jagr or Lang. "It is hard for the forwards to have new linemates all the time," Lang said. "It's just one of those things where we like to get used to each other."
In December of that year, Cassidy cursed out rookie Sebastien Charpentier in front of the team. He apologized at the next practice, but as far as the team was concerned, the damage was done.
Accusations of favoritism had also happened in Washington.
No hard feelings, though…
@RFCapsMoustache aka Booze Cassidy

— Brendan Witt (@Whitemooseranch) June 23, 2014

Errr….. yeah….
"Butch" would be hired for the next season (2004/05) by the Blackhawks as an assistant coach, but sat around twiddling his thumbs as that was a lockout year. In 2005/06, the `hawks went 26-43-13 and Cassidy's contract was not renewed.
Fortunately for him, he was willing to return to the AHL and one of his contacts from his Senators/Griffins days – GM Peter Chiarelli – would now hire him in Boston/Providence.
This was all a dozen years ago. Which one of us the the same person that they were in 2003? Surely he has learned from this experience and grown.
Right?
I hope?
Mark Divver of Projo painted a positive view of that a few years ago. And those Boston Bruins who came up from the Providence club do not appear to have a problem with him. So there is reason for hope.
Right now, things are going well. The Bruins are 4-0 under his leadership. However, things are new, and the team has yet to truly find their level. Will the Bruins be able to find their way into the playoffs? They're on the bubble and events could easily swing either way. Eventually, their fortunes are bound to go through a bad spell. Will he handle things with more professionalism this time around? Let's hope so.