The Bruins look to sweep the season series against the Lightning and a three-game losing streak tonight at the Gahden. Tampa Bay, losers of their last three, are currently out of the playoff structure and likely to miss them entirely this year unless every other team in the Flortheast spontaneously combusts or is defeated by Team Meteor.
If the lines from this morning's practice hold, it looks like we're going to see The Pride of Rhode Island up on the third line with Ryan Spooner and Frank Vatrano.
I couldn't help but notice that the Bolts have a player whose last name is Vermin. Could it be?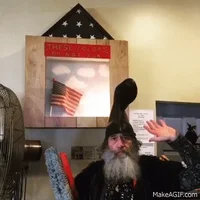 THESE LINES ARE POSTED AS A COURTESY AND MAY BE INCORRECT
BRUINS FORWARDS
#NHLBruins lines in AM skate:
Marchand—Bergeron—Backes
Stafford—Krejci—Pastrnak
Vatrano—Spooner—Acciari
Beleskey—Moore—Nash
Hayes

— Boston Bruins (@NHLBruins) March 23, 2017
BRUINS DEFENSE
#NHLBruins defense in AM skate:
Chara—Carlo
Krug—McQuaid
C. Miller—K. Miller
Morrow—Liles

— Boston Bruins (@NHLBruins) March 23, 2017
BRUINS GOALTENDERS
Rask
Khudobin
---
LIGHTNING FORWARDS
Palat – Point – Kucherov
Killorn – Namestnikov – Drouin
Erne – Gourde – Vermin
Witkowski – Dumont – Brown
LIGHTNING DEFENSE
Hedman – Dotchin
Garrison – Stralman
Coburn – Sustr
LIGHTNING GOALTENDERS
Budaj
Vasilevskiy