Detroit did us a favour by beating the Senators last night. Of course, it would have been better had they beat them within the 60 minutes of regulation play. So, yeah, the Tooties got a point. Toronto didn't care and went on to win against the hapless Sabres. All of this knocks the Bruins down into the second Wild Card slot again.
If the playoffs were to start today, The Bruins would face the Capitals, likely winners of the President's trophy for the second season in a row and their final opponent of the regular season. This would probably suck. Other scenarios have them facing either Toronto or the Senators. Such fun.
Anything can happen in the Stanley Cup Playoffs.
Tonight, the Lightning are in town tonight hoping to chip away at the four-point lead the Bruins have over them. However, the Bruins can put the final nail in their coffin tonight by delivering them a loss. Technically, the Bolts could still tie things up at the end of the regular season in the Darkest Timeline™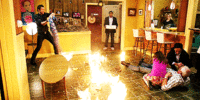 but would still lose on ROW (Boston leads in ROW by 6 and Tampa Bay cannot possibly catch up).
On this final stretch, the Bruins know what they need to do.