The regular season games have all been played. The final seeding has been set. Even though they lost their final two games of the season, the Bruins lucked out.
Last night Columbus did us a solid by defeating Toronto; now the Bruins have the third seed in the Atlantic. The road is still a tough one as the opponent is now the second-seeded Ottawa Senators and thankfully not the Washington Capitals. Still, Boston was 0-4 against the Tootsies this season.
Thank you Angry Fonzie and the Blue Jackets crew!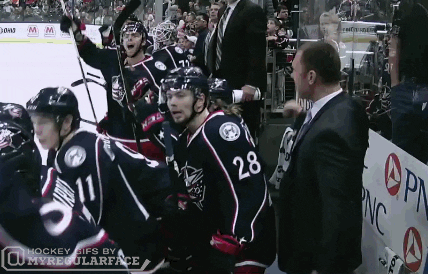 With that, it's time to focus on serious playoff business. Late last night, the NHL released the first round schedule for all teams. Here's a screenshot for the Bruins-Senators series.
Below is the current Stanley Cup playoff bracket according to the official NHL Website.
I have created two leagues, a private league for Bobby to Bergy (password Brand0Carlriss1an) and a public one for members and listeners of Bearly on Topic (no password). Join both or either. Brackets should be available to fill out starting today and must be completed and saved by Wednesday April 12th at 6:59pm ET. I emphasized saved because last year it was not intuitive. If you have issues, let me know and I'll try to help you out.