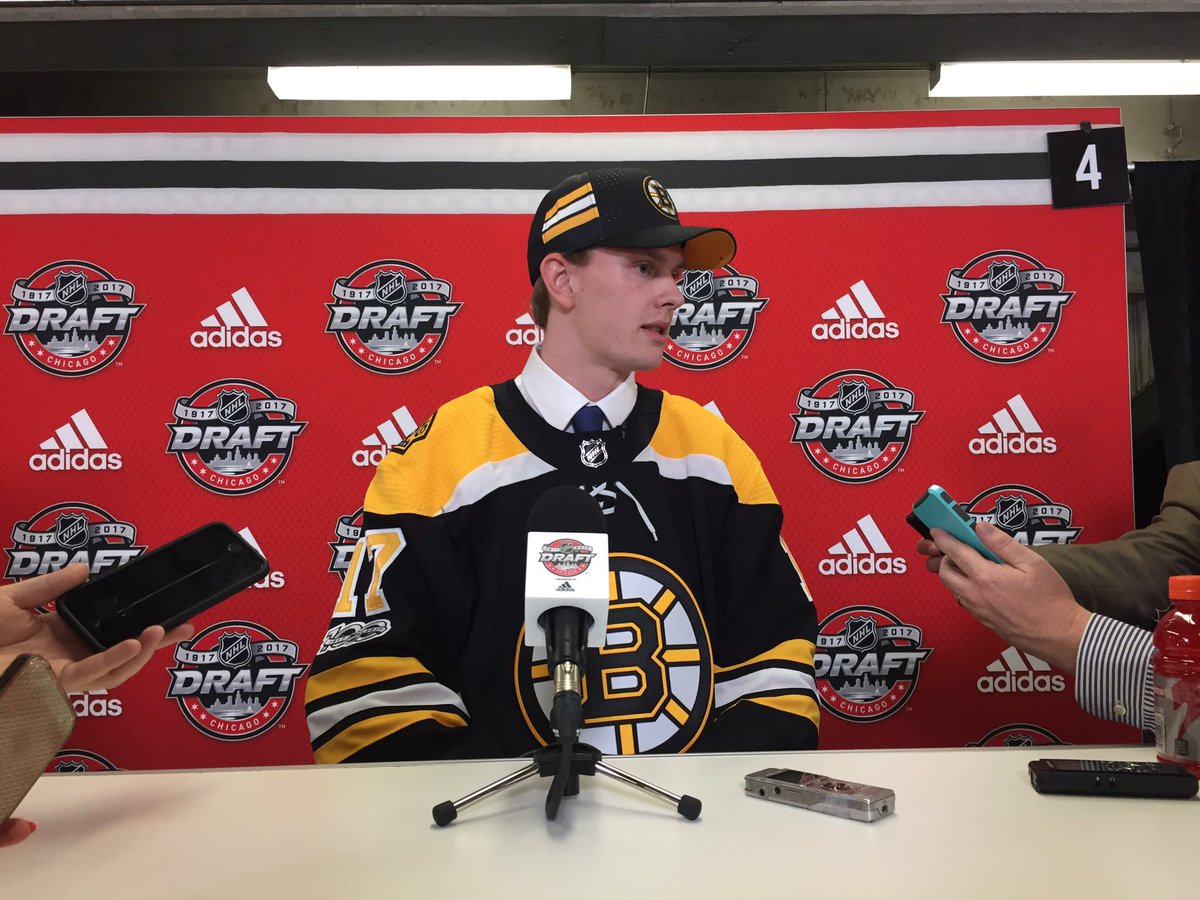 The 2017 NHL Entry Draft was held this past Friday and Saturday. The Bruins' picks:
Round 1, Pick 18: Urho Vaakanainen (D)
Round 2, Pick 53: Jack Studnicka (C)
Round 4, Pick 111: Jeremy Swayman (G)
Round 6, Pick 173: Cédric Paré (C)
Round 7, Pick 195: Victor Berglund (D)
Round 7, Pick 204: Daniel Bukac (D)
So, what can we expect out of these draft picks? As always, I highly recommend reading this article from Scott Cullen of TSN, which gives the expected value out of each pick by draft position. Warning: this article might cause you to descend into nihilism and start thinking that draft picks are worthless. What teams are hoping for is that they get two NHL players out of each draft. Not necessarily two top-quality NHL players – just at least players who make it to the NHL and play for a while. Over a 10-year period that adds up to about a roster's worth of NHL players of varying quality. Each individual draft pick may have very low odds for success, but when you look at them in aggregate – the combined chance of the picks in a draft year producing an NHL player or two – you can see the value in draft picks.
With that in mind, let's look at this year's draft. Consensus is that this was a weak draft year, possibly to the point of the quality of players dropping to a second-round level after pick 10 or so. Projected rankings were all over the place to the point where going "off board" with a pick didn't raise eyebrows like it would have in previous drafts. Some example ranking lists:
Red Line Report
Bob McKenzie
NHL Central Scouting
The Bruins first pick at #18 overall was Urho Vaakanainen, a defenseman from SaiPa of the Finnish Liiga. He's a good skater and carries the puck well. He has good hockey IQ and prefers to use his gap control and stickwork over physical play on defense. He also has a good first pass breakout from his own end. He's not flashy and he's more of a defensive defenseman. Vaakanainen projects to be a second-pair defenseman, which for a #18 pick in a weak draft year is pretty good. You'll always need players like that. Oh and his name translates to "horizontal woman". It's true – a Finnish friend confirmed it.
The Bruins second pick at #53 is Jack Studnicka, a center from the Oshawa Generals in the OHL. He's a solid three-zone player with leadership qualities, but projects to be a third-line center in the mold of Tyler Bozak. Not great, definitely not flashy, but again, you need players like that. If Studnicka can end up playing 500+ games at 15 goals per season for the Bruins, the scouting team would consider that a very successful pick.
Next up at pick #111 in the fourth round is Jeremy Swayman, a goalie from the Sioux Falls Stampede in the USHL. Not much to say about him apart from being tall and athletic, with quick hands and good lateral movement. Like any goalie he'll be a project, and goalie development is, as Steve Dangle says, "Voodoo, wizardry, and bullshit." Maybe he'll turn into something, maybe he won't, and Danial Vladar certainly ranks higher, but it's a perfectly fine fourth round pick.
At pick #173 of the sixth round is forward Cédric Paré, who's your prototypical "project player". He's a big kid with a physical two-way skill set, but needs a lot of refinement and improvement, particularly with his skating and shot release. Oh and he looks like a cross between Bergeron and Spooner:
Bruins fans- meet Cedric Pare- 6th round. Resembles a young Patrice Bergeron & from same part of Quebec City, too. pic.twitter.com/76sk2UmAnr

— Kirk Luedeke (@kluedeke29) June 24, 2017
Did I mention teams were going off board? The Bruins went way off board with pick 195, selecting Victor Berglund, a defenseman from MoDo in Sweden. The pick was so off board that he wasn't on anyone's ranking lists – except PJ Axelsson and his scouting team. Axelsson is very bullish on this kid, who he thinks can be a Torey Krug type. It's the seventh round, so sure, why not.
Finally, there's pick #204, defenseman Daniel Bukac of the Brandon Wheat Kings in the WHL. He's another project player – big, tall, good skater for his size, but still making the adjustment from playing in the Czech Republic to playing in the WHL. But hey, you can't teach size – 6-4, 195lbs – and it's the 7th round.
All in all, the Bruins played it safe with their picks this time around, going for a couple of reasonably likely prospects in Vaakanainen and Studnicka, even if they don't project to be top-tier talent. They have a handful of project players with their fourth through seventh round picks, which is totally normal for fourth through seventh round picks. The B's still need a new #1 center prospect in their system, but this wasn't the draft year to go fishing for one of those.
So yeah, it's Monday. What's on tap?