As it happens, I like to listen to a hockey podcast called Puck Soup on the Nerdist Network by Puck Daddy's Greg Wyshynski and Vice Sports' Dave Lozo. I've only been listening regularly for a couple of months but I can tell you it's a mix of hockey talk, Star Wars stuff, pop culture ephemera, and sometimes a guest. Guests tend to be celebrities with some hockey fandom or other hockey covering journalists. Sometimes, they play games.
One recent game they played is called "Does Sidney Crosby Like…?" In this game, Wysh asks Lozo a series of questions like "Does Sidney Crosby like bagels?" Simple, innocuous questions for the most part with a couple of fun ones thrown in. Now, anyone who has watched Billy on the Street will recognize this game as "Would Drew Barrymore Like That?"
It turns out that the game can be just as fun or exciting as you want it to be, especially if one is into yelling.
So, I think it might be fun to play this game with a few Bruins players. Today, it's Brad Marchand.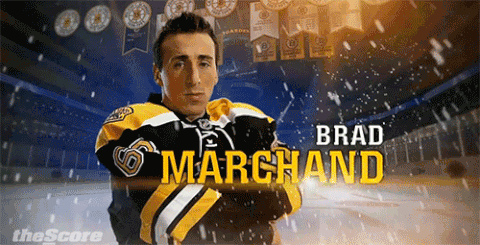 Does Brad Marchand like…
Shibes?
soft serve ice cream?
ziplining?
guacamole in his burrito?
playing with Jaromir Jagr?
to watch the show "Friends"?
spending time in the penalty box?
piña coladas and getting caught in the rain?
Feel free to add more questions and have fun. (A huge headache is limiting my thought processes right now.)
You made it through another week!