Face-offs are going to be a problem this season. Not the play itself but rather the enforcement of the rule on them. It isn't even a new rule. Nope. However, emphasis on enforcing a minor penalty for the infraction is.
You know how it is, every year the forces that be in the NHL get together to work some dark juju finding a way to make rules to slow the pace of play, make scoring great again by messing with goaltender's equipment, and generally ruin the game. This year, they decided that each game needed potentially more power play action by the Penguins, because it's always the Penguins that need help, right? Or maybe the league is tired of handing over Selke trophies to Patrice, so they decided that they should screw with face-offs.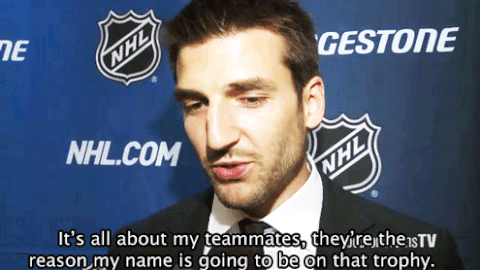 No, Patrice, it's because of you.
Anyway, in looking up the rule, I was confronted with information from two sources: Rule 54 which deals with face-offs and all permutations of violations and Rule 76.6 which also deals with…faceoffs. After much confusion and some discussion in our living room, Intentionally Widenberg finally figured out that the difference of the rules was placement within the rule book and document flow. It is truly dumb document flow in my opinion. Like I said, this rule isn't new. In fact, back in 2014, it was suggested that officials implement the bench penalty aspect of the rule due to issues of gamesmanship. From Scouting the Refs:
Only one defensive player would be permitted to take the draw following an icing call. After one faceoff violation, the next would incur a penalty, as already spelled out in the NHL rulebook under Rule 76.6. Defending teams have had wingers line up for the draw to intentionally get tossed from the circle. Changing to the replacement faceoff man – usually the center – buys additional time for the team's players to rest. This change would prevent a replacement player from taking the draw and hopefully result – along with the hashmark change – in cleaner faceoffs that result in more offense.

"What you're seeing now is a trend that's emerged that on the icing faceoffs, a winger will go right in there and crash right through to get the extra 10 seconds rest and then the center iceman will go in [to take the faceoff]," Campbell said. "The two-minute penalty is now in the books, but we are stressing that penalty should be called more often."
Bench minors have been assessed in a couple of games this preseason and one notable Bruin has been paying attention and doesn't like the new enforcement.
"This faceoff rule is an absolute joke," Marchand said after Tuesday's practice at Warrior Ice Arena. "That's how you ruin the game of hockey, by putting that in there. They're gonna have to do something about that because we can't play this year like that.

"It seems like every year they're making huge changes, and I know they're trying to add a little more offense to the game and make it a little more exciting, but you don't want to ruin the game, and that's frustrating for everyone," Marchand continued. "I know a lot of people that I've spoken to over the last few days have stopped watching games because it's so been so annoying dealing with the new changes. You can make changes and try to better the game, but you can't put [rules] in that ruin it."

…

"Basically you have to be a statue. You can't move," Marchand said when asked what wingers can now do to support their centers on battles at the dot. "I think there was even a play last night where there was a penalty given and it was on 4-on-4 before the [first] penalty even started. That's just a joke. I don't know how you suspect guys to step back, guys are excited to get in there and try to help out your centerman."

Marchand, who plays to the left of Patrice Bergeron, an all-world pivot that led the NHL in faceoff wins (1,089) en route to his fourth Selke Trophy last year, also dislikes the idea of taking anything away from centers that dominate the dot like Bergeron.

"You're also taking a lot of skill away from the centerman by limiting what they're able to do," Marchand, Bergeron's linemate since 2010, added. "Being a centerman is a skill and guys make a really good living at it. You're completely taking away the skill of that.

"We might as well start throwing D in there to take draws if this keeps up."
I agree, throw in some D and let's see how that works. It will probably screw up the game just enough that the NHL front office will love it.