Now some fun from the four-letter sports leader and the little hockey channel under a major network umbrella. Did I say fun? I meant early morning eye torture.
First, an article that's been kicking around for a couple of days from ESPN, a preview of the Boston Bruins 2017-18 season. It starts out just as lazy as it could and it doesn't get much better from there.
It's not a very good summer when the biggest move you make as a general manager is re-signing someone you couldn't afford to lose. That's exactly what happened with Don Sweeney and the Bruins this offseason, which ended with David Pastrnak agreeing to a six-year, $40 million contract just before the start of training camp. While re-signing Pastrnak was an absolute must — he finished behind only Brad Marchand in goals (34) and points (70) last season — the Bruins did little else in the way of improvement. In fact, the only new faces in camp are forward Kenny Agostino (who was named the AHL MVP last season, after posting 24 goals and a league-high 83 points in 65 games with the Chicago Wolves) and defenseman Paul Postma (who had a goal and 13 assists in a career-high 65 games with the Winnipeg Jets). "We made offers to players that signed elsewhere for different reasons," Sweeney said. "That's entirely up to the players themselves, whether the term wasn't right or the dollars weren't right or the location wasn't right." Sweeney might have been a little gun-shy after overpaying for David Backes ($6 million cap hit) last summer and Matt Beleskey ($3.8 million) the summer before. In all fairness, Sweeney entered the offseason with less than $10 million in cap space, and Pastrnak ate up $6.6 million of it with his new deal. As a result, the Bruins — who reached the playoffs for the first time in three years last season but were bounced in six games by the Ottawa Senators — will lean heavily on first- and second-year players to stay competitive in the Atlantic.
Let me get this straight: the Bruins will lose out by not overpaying in free agency? This season's FAs were lackluster outside of Shattenkirk- who in a rare instance left money on the table to play for his hometown team. Drew Stafford waited as long as he could before signing with the Devils. But the Bruins future isn't pinned to the chest of Stafford. Yes, there are legitimate concerns about obtaining a left-shooting defenseman, which didn't happen. The only thing that seemed bungled about the Pastrnak deal is that it did take a long time to happen, partly due to the Draisaitl deal in Edmonton and partly because JP Barry is a jackass. And the deal is a good one for both parties. Agostino is hungry for a shot in the NHL after toiling in the AHL. Even if he's the 13th forward, he's still better than the man he's replaced, Jimmy Hayes. Postma was looked at as a depth signing who will end up figuring in at the start of the year with Krug out. Even if a younger prospect like Grzylcek or O'Gara gets to start out the year in Boston and Postma is waived, it's not a huge loss in any way. Sweeney's vision for his Bruins team is not built in free agency, it's around a core of veterans with youth starting their development in Providence and continuing it in Boston.
Anyone who watched the Bruins resurgence last season knew that Bruce Cassidy had a different look for the Bruins, one that emphasized youth, speed, and skill. He's largely had a hand in the development of many of the players that will start out the season on the Bruins roster. Yeah, Beleskey didn't look that great coming off a partial ligament tear and Backes had multiple injuries. He's old, he's slow, he didn't score as much as other players. Yes, he may be overpaid for too long a term. I think that should they both stay healthy, they'll have better years.
Too long, didn't read- the Bruins are skewing younger and overpaying in free agency isn't always a good thing.
Of course, we're homers here but I expect that we can take and give some criticism for our team. Hell, we deal it out daily. So saying negative things about our team is not the issue. The issue is that ESPN fired all of their hockey writers and are cobbling this together with information that see on paper; its lacking insight at best. Case in point:
Case against: While the Lightning, Toronto Maple Leafs and Montreal Canadiens all made moves that should improve their standing in the Atlantic, the Bruins simply treaded water this summer.
Did the Haps make moves that would improve their roster? Preseason record aside, the team sounds like it's a mess. And they're considering Joe Morrow as a bottom-pair defenseman. The guy that Claude didn't want to play in Boston for good reason (he sucked and his game doesn't have an upside).
ESPN, go home and don't write about hockey anymore unless it's fluffy stuff, okay?
Now, let's turn to NBCSNOMGWTFBBQ.
Earlier in the summer, NBCSN top pairing color-analyst Eddie Olczyk was diagnosed with colon cancer and needed time to be treated and recover. In the meantime, the network decided the best person to replace him and pair with Doc Emerick was this guy.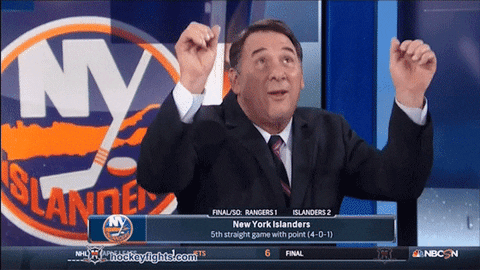 He's taking this new role in stride and just trying to figure it out as he goes. Which sounds great, right?
"When you have a problem, someone has to fill in," Milbury told USA TODAY Sports. "I'm a little nervous about it. It's not something I've done a lot of. But the good news is when you are sitting next to someone as polished and celebrated as Doc Emrick you can just ride shotgun and not worry much. I hope."
It goes on.
"It's a totally different job," Milbury said.

"He sees the game very well," said Sam Flood, NBC and NBCSN's executive producer and president of production. "When you watch a game in the studio, he has a lot of points that are relevant in the moment, but by the time we get to intermission, the moment might have passed."

In the studio, Milbury watches games and has time to think about what he will say between periods. In the booth, he must microwave his opinions.

"You do have time to tee the ball up (in studio)," Milbury said. "(In the booth) you have to hit the pitch when it's thrown and where it's thrown."

Because he is working with Emrick and Pierre McGuire, Milbury laughingly says that he knows that his job will not be to provide biographical information on the players.

"Those guys wake up eating sports information brochures for breakfast," Milbury said.

Milbury said he believes the challenge will be deciding "when do I jump in and when do I pull back?"

"I guess my approach will be to shut up until I have something to say," Milbury said. "Being patient and waiting for the right moment will be an interesting challenge."

Oh, it will be an interesting challenge indeed. You may want to listen to the 98.5 audio stream for those nationally broadcast Bruins games.