Tonight's game is down in the Big Apple against the New York Rangers. Patrice Bergeron, looking perfect as usual, traveled with the team as expected because while he was once one of the walking wounded, he is able to walk and skate and take contact, unlike other players.
Yesterday we had a lot of fun talking about how the Bruins are starting to rise from the dead, or the mostly dead.
As it turns out, Ryan Spooner was skating the other day. David Krejci, who was recently placed on IR with a nebulous back injury, also was on the ice at Warrior Ice Arena.
Optional practice for the B's today.

David Krejci and Ryan Spooner among those skating. #NHLBruins pic.twitter.com/fvdfUU88Ob

— Boston Bruins (@NHLBruins) November 7, 2017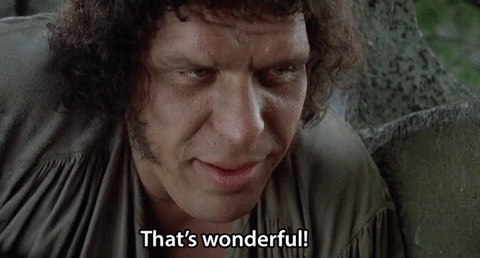 (I hope that Phony and Sis actually did watch the Princess Bride last night and that the London Bear grabbed a copy of the book for his bear cub.)
Noel Acciari and Anton Khudobin are traveling with the team. Cassidy said that Acciari is out versus the Rangers but could figure into the lineup on Friday at Toronto. Khudobin will back up Tuukka tonight if he's feeling up for it. Even though Zane McIntyre was sent down to Providence, it doesn't take long to get from Rhode Island to New York should the need arise.
As reported shortly after the game on Monday, Brad Marchand did not travel with the team.
Another item that was reported by a sports outlet was possible news of the 2019 Winter Classic. Word is it will be the Blackhawks against the Bruins at the Notre Dame Football stadium.
BREAKING NEWS:

The 2019 Winter Classic will be Blackhawks vs Bruins at Notre Dame Stadium. Expect a formal announcement around the ND-Navy game Nov 18th pic.twitter.com/oyBoARugwk

— Chief (@BarstoolChief) November 7, 2017
We'll have to follow up on that after November 18th.