Well, that was quite a weekend of hockey action. After all that excitement, we're going to need the next five days to get ready for the week after. Perhaps we'll hibernate and then wake up.
Next Saturday marks the start of a potential hell scape that sees the Bruins playing five games in eight days, with three of them against the Habs and only one those being at home. In between the dual Saturday nights at the Bell Centre the B's will see the Stars and Canadiens at home, the Isles away, and very little rest in between.
But that is next week. Let's highlight this weekend.
This guy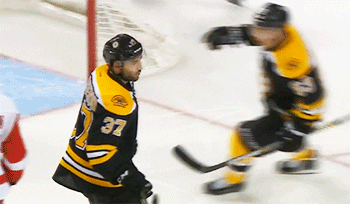 scored a hat trick plus one in a five-point night against the Hurricanes. It turns out that Brad Marchand and David Pastrnak had planned to make it six and tried to set up situations so that their usual set-up centerman could get the attention he deserves.
"We were hoping to get him to six," Marchand said. "It didn't work out."
Brad also guessed where this could fall in the pantheon of achievements for his longtime linemate.
"It's pretty impressive," Marchand said. "Any time you can get four goals in a game — three is impressive — so being part of this one and seeing him have the game he had, it was definitely up there."

Though, as Marchand said, "I think the Olympics, him winning the Cup, and him just being Patrice Bergeron is above that."
Brad is right. We should all aspire to be Patrice Bergeron.
On Sunday, things went poorly, then better, then worse in a game in which Tuukka Rask summed up his play as:
Tuukka Rask: "I was horse bleep all night."

— Fluto Shinzawa (@GlobeFluto) January 8, 2018
Bergy went down briefly after taking a puck to the unprotected part of his right knee. However, being a minor deity, he came back in the second and played the remainder of the game.
Patrice Bergeron needed several stitches on his right knee postgame. Flesh wound.

— Fluto Shinzawa (@GlobeFluto) January 8, 2018
Despite scoring from each line, the Bruins still fell in overtime, 6-5 to the desperate Pittsburgh Penguins.
Rest up, Bruins.