I'm writing this from my bed as I (1) forgot to write this earlier and (2) my dog is totally the boss of me, forcing me to go to bed at the time that we all normally go to bed. Yes, my life is ruled by this little monster:
During today's recording we had this very special guest, @IAmVegasTheDog . pic.twitter.com/kMnhW6gt3N

— BearlyonTopicPodcast (@BearlyonTopic) November 26, 2017
She's very cute and persuasive.
Anyway, the NHL announced the All Star Game rosters yesterday, the ones with mandatory participation unless the player is injured.
Time to play, "What injury will Crosby suffer in the game prior to ASG that will only keep him out for 4 days?"

I say strained hamstring.

— Patrick M.™ (@generationxwing) January 10, 2018
Each team must have at least one player on this roster- yes even Arizona has to participate. Some teams like the Lightning had multiple players because they're so awesome. The Bruins have one solitary participant and it's this guy: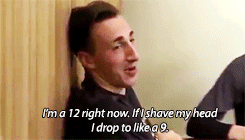 He's a fair enough choice. It might have been more fun to see Pasta go. As it is, he lamented the lack of inclusion of a countryman.
How is Jake Voracek not on All star team… mind boggling!

— davidpastrnak (@pastrnak96) January 11, 2018
Since the ASG will not include some of the improvements that the Bearly on Topic crew suggested some time ago like Dog Hockey™ and would rather make you watch that horrible four line relay crap on the skills competition day, I imagine most fans will find something better to do. However if you're into it, here are your rosters as the stand currently:
Atlantic Division (All-Star appearance)

F Aleksander Barkov, FLA (1st)
F Jack Eichel, BUF (1st)
F Nikita Kucherov, TBL (2nd)
F Brad Marchand, BOS (2nd)
F Auston Matthews, TOR (2nd)
F Steven Stamkos, TBL* (5th)
D Mike Green, DET (2nd)
D Victor Hedman, TBL (2nd)
D Erik Karlsson, OTT (5th)
G Carey Price, MTL (6th)
G Andrei Vasilevskiy, TBL (1st)
Head Coach: Jon Cooper, TBL (1st)

Metropolitan Division (All-Star appearance)

F Josh Bailey, NYI (1st)
F Sidney Crosby, PIT (3rd)
F Claude Giroux, PHI (5th)
F Taylor Hall, NJD (3rd)
F Alex Ovechkin, WSH* (7th)
F John Tavares, NYI (5th)
D Noah Hanifin, CAR (1st)
D Seth Jones, CBJ (2nd)
D Kris Letang, PIT (4th)
G Braden Holtby, WSH (3rd)
G Henrik Lundqvist, NYR (4th)
Head Coach: Barry Trotz, WSH (3rd)

Central Division (All-Star appearance)

F Patrick Kane, CHI (7th)
F Nathan MacKinnon, COL (2nd)
F Brayden Schenn, STL (1st)
F Tyler Seguin, DAL (5th)
F Eric Staal, MIN (5th)
F Blake Wheeler, WPG (1st)
D John Klingberg, DAL (1st)
D Alex Pietrangelo, STL (1st)
D P.K. Subban, NSH* (3rd)
G Connor Hellebuyck, WPG (1st)
G Pekka Rinne, NSH (2nd)
Head Coach: Peter Laviolette, NSH (3rd)

Pacific Division (All-Star appearance)

F Brock Boeser, VAN (1st)
F Johnny Gaudreau, CGY (4th)
F Anze Kopitar, LAK (4th)
F Connor McDavid, EDM* (2nd)
F James Neal, VGK (3rd)
F Rickard Rakell, ANA (1st)
D Brent Burns, SJS (5th)
D Drew Doughty, LAK (4th)
D Oliver Ekman-Larsson, ARI (2nd)
G Marc-Andre Fleury, VGK (3rd)
G Jonathan Quick, LAK (3rd)
Head Coach: Gerard Gallant, VGK (2nd)