The Bruins played to yet another packed house at the Pizza Box last night. Seriously, how much longer are they going to keep up this charade that fans who paid for seats are so mesmerized by the new arena that they're watching the game in the restaurants sprinkled around the concourse? SMH.

First Period:
Not much happened in this period and everyone should be glad about that.
Second Period:
The guy with no vowels in his last name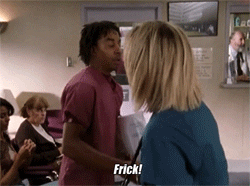 Martin Frk scored his first goal in some 5280 games or something (ok, it was more like 10 or 11 or 18) because of course. If you're a dude who hasn't scored in a long time, you probably want to play against the Bruins.
(Yes, I know his name is pronounced in some dumb way, I just always call him Frick in my head)
Anyway, that one was a power play goal after Charlie McAvoy was sent to the box. Nobody wants a Charlie in the box.
It took about ten minutes for the Bruins to rebound and score when Sean Kuraly took it into his own hands.
Sean Kuraly ties the game 1-1 in Detroit #NHLBruins pic.twitter.com/k98Ic78db1

— Marina Molnar (@mkmolnar) February 7, 2018
He would be the first of the Bruins scorers with last names that start with K. You could even call them the Bruins. Uh, maybe not. Anyway, David Krejci scored shortly after that one.
David Krejci's 10th of the season, 2-1 #NHLBruins pic.twitter.com/uA3A7BBENT

— Marina Molnar (@mkmolnar) February 7, 2018
It's just too bad that Torey Krug, wearer off the second A last night in his "hometown" didn't net one of his own.
.@ToreyKrug gets the A tonight in his hometown. pic.twitter.com/xbUioz1mYk

— Boston Bruins (@NHLBruins) February 7, 2018
Third Period:
Danton Heinen scored the game winner nearly mid-way through the third.
Danton Heinen picking corners, 3-1 #NHLBruins pic.twitter.com/0XPZFZkMyO

— Marina Molnar (@mkmolnar) February 7, 2018
Frans Nielsen decided that he wanted to be a hero bringing Detroit to within one. With the Wings' net empty and six attackers in the Bruins defensive zone, Tuukka made a few great saves, the defense staved off the opponents and despite a couple of attempts to hit the empty net but yielding an icing each time, the Bruins managed to get the win.
Tuukka Rask is the 11th different goaltender in NHL history to earn at least one point in 21+ consecutive decisions and fourth to do so with the @NHLBruins. #NHLStats #BOSvsDET pic.twitter.com/YJZmA13rWA

— NHL Public Relations (@PR_NHL) February 7, 2018
Thump those chests!