Last night one team made it to the Stanley Cup Playoffs and another was mathematically eliminated.
But, we'll talk about that later.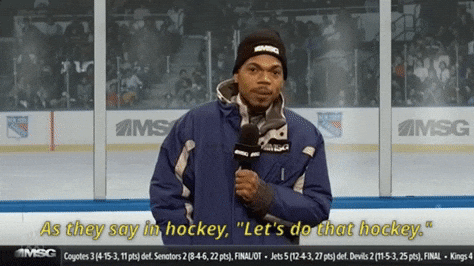 Last night's game featured two players with similar names on each team. No, it wasn't the thrice annual "Sebastian Aho Battle of Who is the Aho-est" but it did involve Jaden Schwartz and Jordan Swzarz, only one of which would score two goals to beat the other team.
First Period:
Ryan Donato is going to become known for something. Sure, plenty of Bruins fans have already inducted him into the Hockey Hall of Fame, given him the Stanley Cup, and knighted him. But right now, this kid is racking up points- 4 in only 2 NHL games. He scored the Bruins lone goal on the power play, making it look easy.
Two games, two goals. Ryan Donato makes it 1-0 on the PP (Assist goes to the ref) #NHLBruins pic.twitter.com/Y1z0JMuZDh

— Marina Molnar (@mkmolnar) March 22, 2018
Second Period:
This frame is notable not for goals but for one hit. Almost two thirds of the way through the second period, Brayden Schenn was called for charging David Krejci. While it seems Krejci's head was up, there was no way he could avoid the flying shoulder which made his head the principal target. While Krejci seemed uninjured and Schenn received a penalty it's unlikely that DoPS will take any further action. He should but we know how this goes.
Brayden Schenn catches David Krejci with a hit to the head pic.twitter.com/GtCEtQm29t

— Pete Blackburn (@PeteBlackburn) March 22, 2018
David Backes was ejected for far less than that hit.

— Ryan Johnston (@Johnston985) March 22, 2018
Suspension, not sure. But I know Backes was ejected for far less. https://t.co/dDkkhiM6N0

— Ty Anderson (@_TyAnderson) March 22, 2018
Yep, the new standard is that Backes hit on Trocheck.
Third Period:
Jaden Schwartz tied it up at 9:36. That sucked but the B's kept fighting.
Anton Khudobin made a brilliant save late in the period that essentially clinched the playoff berth for the Bruins by earning at least one point in the standings for this game.
Dobby clinches. pic.twitter.com/zocmQQthHN

— Marina Molnar (@mkmolnar) March 22, 2018
Overtime:
It took virtually no time for Jaden Schwartz to score the game winning goal. The Blues may have gotten two points for that game but the Bruins clinched a playoff berth and their fans rejoiced upon hearing that and the fact that the Habs were eliminated.
With a loss tonight, the #Canadiens have been eliminated from playoff contention. @wyshynski assesses what they should do this summer to get back to the playoffs a year from now: https://t.co/FhjiCcUM4y

— Tim Kavanagh (@timjkavanagh) March 22, 2018
(It should be known that Wysh picked the Habs to make the Playoffs and the Bruins and the league leading Preds to miss. Oops!)