It's Wednesday which means it's game day. Game 7 is tonight at the Garden at 7:30pm. It took me a little bit to find out where the game would be televised and it will be on NESN and NBCSNPDQETC so you get to choose which broadcast team you want if you're lucky and if you're not you get this: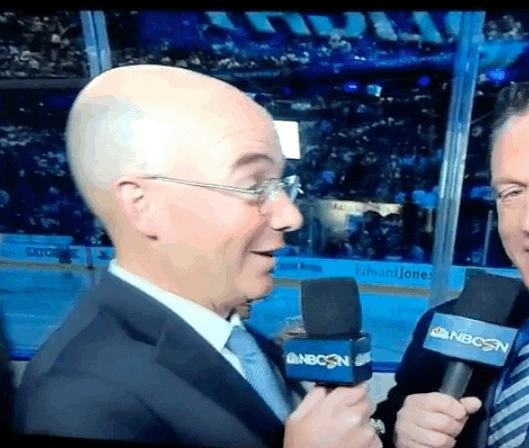 Edit: Apparently, Dave Goucher is coming home to call this one…on radio. NBC Sports has radio?
Funny how life works sometimes…honored and excited to be heading to Boston for @NHLBruins–@MapleLeafs Game 7 tomorrow night for @westwood1sports & @NBCSportsRadio. #whosaysyoucan'tgohome? https://t.co/MyBgn8nwx0

— Dave Goucher (@DavidCGoucher) April 24, 2018
Looking at the practice lines from Wednesday morning, it looks like Bruce Cassidy isn't doing too much to weak the lineup by adding players to it but rather just swapping wingers around. Rick Nash is on the new Nash heavy third line on the opposite side of David Backes. Danton Heinen, a player whose offensive production has all but stalled, has been promoted to the Krejci line at right wing after sit-in out the previous game. One could argue that keeping the slumping Heinen in the lineup as opposed to trying out the fresher, young gun Ryan Donato is an obvious mistake.
#NHLBruins practice lines:

Marchand – Bergeron – Pastrnak
DeBrusk – Krejci – Heinen
Rick Nash – Riley Nash – Backes
Schaller – Kuraly – Acciari
Donato – Gionta – Wingels

Chara – McAvoy
Krug – Miller
Grzelcyk – McQuaid
Holden

Rask
Khudobin
Vladar

— Boston Bruins (@NHLBruins) April 24, 2018
Matt Kalman seems to believe that Donato should sit. Ty Anderson lays some groundwork for why Donato could be considered and then shuts that down.
"We've considered it, certainly," Cassidy said of icing Donato. "He played a [playoff] game earlier. He was OK. He wasn't bad, he wasn't great, he was somewhere in between. Whatever we decide tomorrow [for Game 7] — it's not set in stone, we looked at some things today — [but] there is a certain level of trust you have in your players that have gotten you this far, and Danton Heinen is one of those who's played really well for us."

A healthy scratch in Game 6, Cassidy is clearly hoping that he's pressed the right button with the 22-year-old Heinen to get his head back on straight, and has even given him a chance to produce right away, with Heinen projected to begin Game 7 as the right-side presence on Boston's second line with David Krejci and Jake DeBrusk.

Giving Heinen a start in that role is a total 'prove me' move from Cassidy, by the way, as that trio has almost zero prior history together, with just 22 minutes of five-on-five action together this season.

It's also Heinen's versatile style that gives him an advantage over the more one-dimensional — both as a player and in terms of where he can currently play in your lineup — element that comes with Donato's presence in the lineup.
Whatever happens, I hope the right personnel are on the ice to win this fucking game.