On Saturday afternoon, the Boston Bruins began their second-round series against the Tampa Bay Lightning down in Tampa. All things considered, it went pretty well. I mean, when the score involves a four-goal differential favoring your team, it's really good.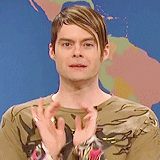 This game had everything: frustrating calls by the officials, a lack of attention to player's needs, two Bruins scoring multiple goals, and a Gregory Campbell-esque performance by young Jake DeBrusk.
Patrice Bergeron: 2 G, A
Rick Nash: 2 G
Brad Marchand: 1 G, 3 A
David Pastrnak: 4 A

Game 1 Recap and Highlights: https://t.co/I5bAQDCWHt pic.twitter.com/oIjJUQT91h

— Boston Bruins (@NHLBruins) April 28, 2018
In the Bruins' defensive zone, Jake DeBrusk took some contact from Tampa's Alex Killorn that left him hobbled over in pain or breathless whichever makes you feel better. While he had difficulty staying upright for the remainder of his shift, he managed to go back to grab his stick, block another shot on goal, and make a valiant effort to clear the zone before he face-planted on the ice. Jake would come back later to score an empty netter after Andrei Vasilievskiy vacated the goal for 25 seconds during the power play to give the Bolts the extra skater.
Jake DeBrusk is a warrior pic.twitter.com/0gwdJMx8Yy

— Pete Blackburn (@PeteBlackburn) April 28, 2018
The officials seem to be on track to make sure that every game has dubious calls. Brad Marchand had a goal called back after the officials failed to call immediately on David Pastrnak for cross-checking. Instead, seconds passed with the puck still in the Bruins' possession which allowed Marchand to score and have it called back. Brad would get his goal later but that's not the point. Call that penalty right away refs!
Then came the trouble for Tuukka. Tuukka Rask had an equipment malfunction when his left skate blade popped out. Tuukka tried to get the attention of the official to no avail. With no blade, Rask couldn't push off with his left leg to go right and the Bolts got a power play goal from it. Tuukka protested, brandishing the errant blade, then chucked it toward the boards when his protestations fell on unsympathetic ears. While it's awful that this happened, especially the goal part, it's great that Tuukk has the fire in him.
Tuukka Rask losing his temper will always be entertaining pic.twitter.com/j7HtOchn4G

— Because It's The Cup (@CauseItsTheCup) April 28, 2018
Patrice Bergeron on Tuukka Rask's blade fling: "I was like, 'No, don't do it.' At least nobody was around."

— Fluto Shinzawa (@FlutoShinzawa) April 28, 2018
Finally, Rick Nash scored not once but twice. Apparently, this Lightning team is what he needs to recover from his slump.
Rick Nash scores his second goal of the game. pic.twitter.com/ZCtVs3Cuhe

— NHL GIFs (@NHLGIFs) April 28, 2018
Game two is tonight in Tampa on NBCSN. At least I got my wish for Brian Boucher this series. Hope he gets to slip back to Rhode Island for some coffee milk this week.