John Tavares Watch™ is still on. Reportedly, the Boston Bruins are making their pitch today in Los Angeles.
San Jose and Boston will present to John Tavares tomorrow in LA. The Tampa Bay Lightning and Dallas Stars will deliver their pitch on Wed.

— Darren Dreger (@DarrenDreger) June 26, 2018
There are many ways to handle this, but it seems that most involve showing off pictures of Patrice Bergeron, or maybe even having he himself in person for the big meeting.
Bruins pitch to Tavares should just be "You get to play on a team with this guy" then show 30 minutes of Bergeron highlights. And his modeling headshots.

— Jon (@JonFTOS) June 25, 2018
In a way it makes sense: the two forwards have played together in the multiple international competitions. Tavares has tremendous respect for Bergy and wouldn't he like to play with him not against him? And just look at him, why wouldn't you want to be his teammate?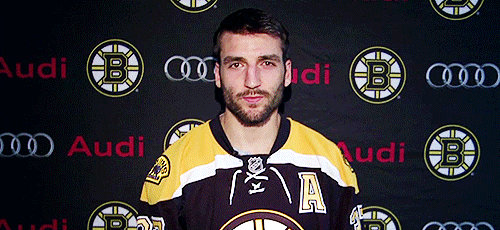 One team is reportedly out of the running: Montreal.
The Montreal Canadiens requested a meeting with John Tavares this week and Tavares turned down their request. pic.twitter.com/TvQch2KcMv

— Complete Hockey News (@CompleteHkyNews) June 25, 2018
I hope this is true because it would be like our Christmas come early!