Greg Wyshynski made the move from Puck Daddy to ESPN last summer. What's great about that is that he gets to build up the reputation of the four-letter network that has been known for not covering hockey much since the gave up the broadcasting rights years ago. Also great, he can show the usually stiff brand how to have fun, hockey style.
The former editor of Puck Daddy has brought back the idea of a NHL Mount Puckmore for every team, starting first with the teams in the Atlantic. The idea is that instead of merely selecting statistical leaders on each team, or great players that spent a hot minute with a team, that the writers would pick players that defined different eras of the team.
For the Bruins version of Mount Puckmore, he selected Milt Schmidt, Bobby Orr, Ray Bourque, and Patrice Bergeron. I think the folks at ESPN picked a pretty accurate version of Mount Puckmore. Of course you have to include both Orr and Bourque without question, both for their individual statistics and contributions to the team and the team identity. Schmidt meant so much to the team in many roles throughout his employ with the Bruins and it's clear that the younger current players had much respect whenever he was at the Garden. As for that last spot, Patrice is perfect.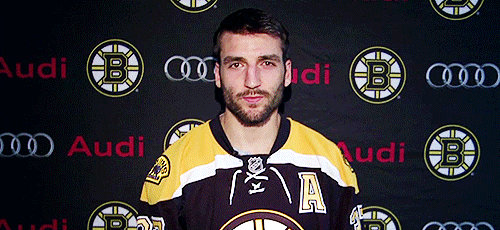 No other player on the Bruins has meant more to the franchise and it's fortunes than this Bruins lifer. His four Selke trophies prove that he's one of if not the best at his position in the 200 foot game. And of course, he was key to winning the Stanley Cup in 2011 and getting back to the Stanley Cup Final in 2013.
It's that last spot that's vexing: There's Bucyk, the franchise leader in goals (545) and Espo, whose brief tenure with the team produced an astounding 1.62 points per game. But as a representative of the modern era's championship teams, and as a player who will go down as one of the greatest defensemen centermen of all time, we're comfortable with Bergeron here. (Also, Brad Marchand threatened to lick us on the forehead if we didn't select his linemate.)
Of course, there's a poll on the page to tell Wysh and crew how they got it wrong. And they take it in stride with humor.
We added Eddie Shore to the @NHLBruins Mount Puckmore honorable mention. But no one is a match for Sea Bass. Vote now on how we screwed up the ATL division! https://t.co/e4ciQOiuDA pic.twitter.com/sLXhzwP9ry

— Greg Wyshynski (@wyshynski) August 14, 2018
So, how do you think they did? Who would you include in the Bruins Mount Puckmore? Is there an obvious mistake they made by not including a player even as an honorable mention?