Here we are at the end of August in the content dry zone. We're not talking about Artemi Panarin because that situation looks dead. We have that extra left shooting defenseman we've been looking for but we could always use an extra forward who can give us that balance between the really young guys and the grizzled veterans. So Ty Anderson from the digital side of 98.5 The Sports Hub has a suggestion: trade for Tyler Seguin.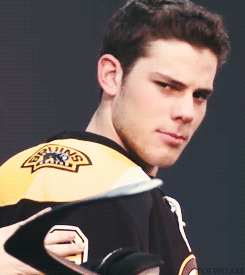 Honestly, there have been murmurs this summer about this very idea. And it's not a terrible idea, if you think that he's going to produce. There isn't a reason why he shouldn't. In Cassidy's offense, Seguin would likely thrive.
Apparently, Seguin's contract talks are not going well with Dallas and he would like to play the season without worrying about contract details, much like Artemi Panarin has already stated and like John Tavares did last season.
Seguin is still on the last year of that extension that he signed with Boston in September 2012, making $5.75 million per season. For this final season, Seguin still has a modified no trade clause for which he submits a 15 team trade list. Would Boston be on that list? Maybe?
Firstly, Boston was one of the best teams last season, pushing all season to get to the playoffs. One would assume that with Peter Chiarelli ruining running the Oilers and writing screenplays like "Crazy Rich Asians", that any issues he might have had with him wouldn't interfere with a return.
And Ty ty has matured. from Anderson's article:
"I think [Seguin] has made himself to be a very good player, and he's accountable in every situation," Hitchcock said after that visit to Boston, which ended with a beautiful overtime goal that saw Seguin deke around everyone. "He's really matured. I think he's a guy that we don't even worry about anymore. Everyone talked about, "Can you make him a one?" Well, quite frankly, he's a one, and he's playing like a one… He's killing penalties, he's out there taking key faceoffs, he's quarterbacking the power play, and he's playing against the other team's best player. To me, that's what a one does, and that's exactly what he's doing."

This is the on-ice growth that the Bruins were not willing to go through with Seguin at that price point. As for the off-ice growth, perhaps living in the shadow of JerryWorld has allowed Seguin to still be the Seguin of old — with concerns and stories of his Boston days that were somehow both true and heavily exaggerated — without anybody knowing.
The tricky part is shedding the salary in the other direction. David Backes is probably the first name that pops into everyone's head. The salaries are just about even and Backes might not fit so easily into this season's Bruins lines. Anderson also suggests David Krejci could be sent to Dallas in return.
So, what do you think? Is it time to bring him back or is this just crazy talk?