It only took three games for Patrice Bergeron to score a hat trick, the fourth of his career. Scoring at a rate of 1.33 goals per game, he's on pace to score a 109 goals this season! With that, the Bruins can win all the games!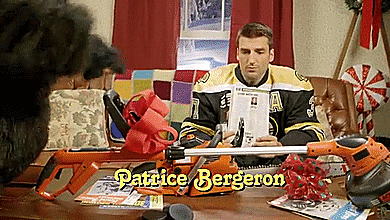 Nice game, dad.#NHLBruins pic.twitter.com/uaLoteDpgp

— Boston Bruins (@NHLBruins) October 8, 2018
Patrice Bergeron is first Boston Bruin to record hat trick in team's home opener since Cam Neely accomplished the feat in 1995.

— Ty Anderson (@_TyAnderson) October 8, 2018
What's even more beautiful is that Cody Ceci assisted on the goal! Well, the puck which was intended for Pasta, bounced off a Ceci and into the goal.
Patrice Bergeron completes the hat trick, #NHLBruins lead the Senators 4-2 pic.twitter.com/zOf9nWP3v8

— Marina Molnar (@mkmolnar) October 8, 2018
Yes, the B's beat the Tootsies in their official home opener last "night", 6-3, with goals from Bergy (3), local guy Chris Wagner (1), and David Pastrnak (2). While the B's looked shaky at times and possibly not motivated at others, they still managed to lead the entire game. And Tuukka got his first win of the season to boot!
Next up: Edmonton on Thursday night.