Whaler-Canes
Whaler-Canes
Does whatever a Whaler-Cane does.
Spins no web
of any size
Catches krill
just like flies
LOOK OUT! Here come the Whaler-Canes!

Today is the last Bruins game before the Christmas break, and they are visiting the Carolina Hurricanes in Carolina. The Canes are calling it "Whalers Night" – It sounds like they're are gonna roll out all of their old Hartford Whalers nostalgia, so folks may enjoy some of that.

The Bruins are on a nice win streak right now, having beaten the Habs, the Ducks and the Preds. Hopefully they can keep that going.
Patrice Bergeron was a game-time decision for yesterday's tilt, but he started off the game, and managed a 4 point night with two goals vs the Predators at the TD Garden, including his 300th career goal.
Patrice Bergeron buries his 300th career NHL goal #NHLBruins lead 2-1 pic.twitter.com/lEv5C0wxjC

— Marina Molnar (@mkmolnar) December 22, 2018

We had a visit from "No Goal" yesterday in which David Backes' stick briefly got a bit tangled with Pekka Rinne's pads, and Rinne never got reset before a McAvoy shot went into the net. It was not clear to any Boston observer that Rinne didn't have time to reset, as per the actual rule, but that didn't matter to the situation room in Toronto.
The remaining injured Bruins have all been at practice — Zdeno Chara, Urho Vaakanainen, Kevan Miller and Jake DeBrusk. Vaakanainen is unlikely to be called on to play for Boston in the near future, but will appear it the IIHF World Juniors representing Finland.


Hopefully he'll do better than THAT guy.
Lines?
On Saturday, Bergeron & Marchand skated with Danton Heinen, pushing Pastrnak with Krejci and Nordstrom. Noel Acciari centered the checking line and Cave the Backes line, leaving JFK eating nachos on the 9th floor. It seems likely that these lines will continue today. Ask not what your nachos can do for you – ask what you can do for your nachos.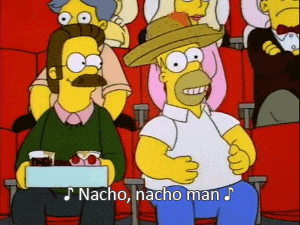 Bruins Forward Lines

Bruins Defensive pairs

Bruins Goaltending
#40 Tuukka Rask
(#41 Jaroslav Halak)
The Carolina Hurricanes are the opponent of the day, but don't be confused by their green uniforms. They are playing pretend and donning some Whalers uniforms. The 'Canes are coming off a loss last night vs the Penguins, and also have suffered an upper body injury to Jordan Stahl (head shot), who left the game early. He is likely to miss today's game, and they have called up forwards Clark Bishop and Janne Kuokkanen from their AHL affiliate – the CHarlotte Checkers. Defenseman Hayden Fleury is also unlikely to play as he is suffering from concussion symptoms. They are running at 14-15-5, which puts them well out of likely playoff spots. Even though the Bruins are much better than the Canes, the Hurricanes do tend to play well against the boys in black, and have won more than their share of matchups. Curtis McElhinney played last night, so we can expect Petr Mrazek in goal today. (Scott Darling is in the minors and got shredded for 6 goals last night.)
https://pbs.twimg.com/media/DvE5TUnV4AAkcHJ.jpg:large
Canes Forwards
#37 Andrei Svechnikov — #11 Jordan Staal — #48 Jordan Martinook
#79 Micheal Ferland — #20 Sebastian Aho — #86 Teuvo Teravainen
#13 Warren Foegele — #71 Lucas Wallmark — #14 Justin Williams
#23 Brock McGinn — #49 Vicktor Rask — #7 Phil Di Giuseppe
(Clark Bishop, Janne Kuokkanen)
Canes Defense
Jaccob Slavin — Brett Pesce
Calvin de Haan — #27 Justin Faulk
Trevor van Riemsdyk — #19 Dougie Hamilton
Canes Goaltending
Petr Mrazek
Curtis McElhinney