Hey its a new year and the Bruins are 2-0 in this new era! Nobody has been better in this first three days of 2019! In fact, we don't have much to complain about at all; the B's currently sit in third in the Atlantic, they've won three in a row, and they're finding ways to win despite playing from behind. So this week, we'll alter the rundown a bit.
The Bold and the Beautiful:
The best two-way forward proved why he's won the Selke Trophy four times. Patrice Bergeron gave a clinic for all forwards about defensively responsible play by first preventing a short handed goal attempt by Brandon Saad and then getting back down the ice to tap in the power play goal to tie up the game.
Next time someone asks you what Patrice Bergeron is like as a player, show them this: pic.twitter.com/GBe1rLIvaz

— Tony Massarotti (@TonyMassarotti) January 2, 2019
He's not one of the best defensive forwards in the game, he is the best defensive forward in the game. He's perfect and he's ours.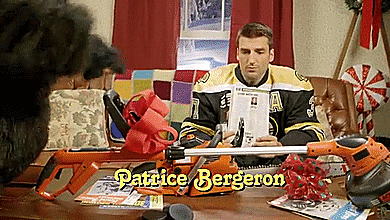 The Good:
Three game win streak! Sean Kuraly scores the GWG in two straight! Brad Marchand finally played the Winter Classic! Quota against the Flames! Jake Debrusk scored 2 goals last night! Seriously, so much good this week.
Oh, and this goal:
This goal is banned on Tumblr pic.twitter.com/CjONnYMlRT

— Pete Blackburn (@PeteBlackburn) January 4, 2019
The Bad:
Most of the second period of the Winter Classic until Patrice saved the day (see above).
The Ugly:
The Bruins now own a dubious distinction of allowing nine short handed goals, the worst in the league this season. That is the opposite of good.
The league-worst ninth shorthanded goal allowed by the Bruins. Likely their worst. Taking a close look at this issue tomorrow at @TheAthleticBOS.

— Fluto Shinzawa (@FlutoShinzawa) January 4, 2019
Have a happy weekend!