The Bruins are back in Boston today, defending the home turf against the Columbus BJs.
Be there! Or be someplace else, as the law of conservation of mass suggests that you need to exist someplace in space and time for a continuous length of time.
It's also the day before St Patty's, so the Bruins will be having an "Irish Heritage Night", no doubt allowing fans to buy green Bruins jerseys with names such as O'Chara and O'Marchand on the back. The raffle of the day will go to the Claddagh Fund – a chqrity founded by Ken Casey of the Dropkick Murphys
Bruins to host Irish Heritage Night on Saturday, March 16: https://t.co/ugK6WUXfPa

— Boston Bruins (@NHLBruins) March 15, 2019

During the Celtics game earlier today, the TD Garden hosted traditional Irish Dancing. We Bruins fgans will get an Irish pipe & drum corps.
Sláinte!
Today there will be a different in-house announcer at the TD Garden, with Jayme Parker behind the microphone.
When the first announcement comes over the PA at TD Garden on Saturday, it might sound a little different than usual. Our @AmalieBenjamin has the story on @hubsportsgirl https://t.co/ZRdMqPtjz0

— NHL.com (@NHLdotcom) March 16, 2019
It's also a milestone game for linesman Brian Murphy
Special night for @NHL linesman -and Dover, NH native- Brian Murphy as he does his 2000th game tonight. One of the all-time best at the job. Only a few others have reached that milestone

— Billy Jaffe (@BJaffe) March 16, 2019

So don't forget to give him a round of applause in the brief time between when he skates onto the ice and when we've decided we're angry at him because dangit, CHARLIE COYLE WAS TOTALLY ON-SIDES YOU BASTARD!!!!!.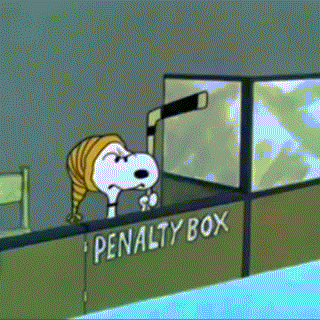 So back to the Bruins themselves.
This past week, the Bruins were on a 3 game road trip that perhaps did not go as well as hoped…

On Sunday, they lost to the the Pittsburgh Penguins, and on Tuesday they lost to the Columbus Blue Jackets 4-7 however vs the Winnipeg Jets, they lost.
The Bruins have stalled at 93 points, slipping to 4th league wide, yet are still in 2nd place in the division, behind Tampa Bay who are a whopping 19 points ahead of them at 112 with 11 games remaining. 3rd-place Toronto is only 2 points behind.
Part of their woes have been due to some late season injuries, with David Pastrnak, Kevan Miller, Torey Krug, Matt Grzelcyk, Jake DeBrusk and Marcus Johansson all missing at least the last two games and, Kuraly & Acciari having each just returned from injuries. Progress is apparently being made by at least two of them, however.
We've got David Pastrnak and Jake DeBrusk on the ice for morning skate at Warrior this morning.

And the people rejoiced.

— Amalie Benjamin (@AmalieBenjamin) March 16, 2019

Pastrnak is not expected to join actual practices until Monday, but will travel with the team as they start their next road trip. Torey Krug is officially in concussion protocol.
What do the lines look like now? Well, they're still a little confused.
In the last few games, David Backes played some shifts alongside Bergeron & Marchand, pushing Danton Heinen to a middle-six role – Mercifully, that is unlikely to continue tonight. Trent Frederic, Paul Carey and Connor Clifton were called up to back-fill for DeBrusk (foot), Johansson (lung) & Krug (concussion). Charlie Coyle has been playing on David Krejci's right wing, and it looks like he will do so again. Coach Bruce Cassidy was hopeful that DeBrusk & Johansson would be available during the road trip, but this did not materialize. However, Jake DeBrusk will play tonight with Trent Frederic sitting out. Matt Grzelcyk got a scare last Sunday, when Patric Hornqvist crushed his arm against the glass — the arm is not actually broken, but he's still not available. Steven Kampfer and Clifton are in for Grizz & Krug. Grzelcyk & Johansson are not skating yet, but are expected to start skating in the coming week. David Pastrnak actually skated with the team at practice today, but did not participate in line rushes and is described as 'week-to-week' as is Kevan Miller and his upper body injury. Jaroslav Halak has been announced as today's goaltender.
Bruins Forward Lines

Bruins Defensive pairs

Bruins Goaltending
#41 Jaroslav Halak
(#40 Tuukka Rask)
The Blue Jackets have been trying hard to get into the postseason, and have been hovering in the 2nd wild-card spot, leading the Habs by 2 points and trailing Carolina only by a tiebreaker. They have a record of 40-28-3 (83 points) and are 4-2-0 over their last six games, including a 6-4 victory over the Bruins. They were active at the trade deadline – originally rumored to have been shopping pending free agent Artemi Panarin and Sergei Bobrovsky, they became buyers, acquiring highly sought after forwards Ryan Dzingel and Matt Duchene (who have somewhat under-performed for the BJs so far) as well as ex-Bruin Adam McQuaid. They are relatively healthy with only Ryan Murray unavailable due to an upper body injury.
The CBJs played last night, winning a 3-0 shutout in which Sergei Bobrovski saved 46 shots. One would assume that we will see Korpisalo vs the Bruins today.
(h/t the Athletic's Alison Lukan @AlisonL)
Blue Jackets Forwards
#9 Artemi Panarin — #18 Pierre-Luc Dubois — #13 Cam Atkinson
#19 Ryan Dzingel — #95 Matt Duchene — #77 Josh Anderson
#71 Nick Foligno — #20 Riley Nash — #38 Boone Jenner
#17 Brandon Dubinsky — #10 Alexander Wennberg — #28 Oliver Bjorkstrand
Blue Jackets Defense
#8 Zach Werenski — #3 Seth Jones
#65 Markus Nutivaara — #58 David Savard
#4 Scott Harrington — #54 Adam McQuaid
Blue Jackets Goaltending
(#72 Sergei Bobrovsky)
#70 Joonas Korpisalo