Last night, the Bruins ended their series with the New Jersey Devils. With the 74th game of the season, the Bruins victory brought the team within 1 point of the century mark.
The Bruins didn't register a shot within the first 6 minutes of the game but would eventually even out the discrepancy by the end of the period, with each team tied with shots on goal. Before that 20 minute mark, Patrice Bergeron would score his 29th goal of the season.
David Pastrnak feeds Patrice Bergeron. His 29th of the season gives the #NHLBruins the 1-0 lead pic.twitter.com/U5TL7c0BH3

— Marina Molnar (@mkmolnar) March 21, 2019
In only his second game back from a surgery on his thumb, David Pastrnak got on the board making his the goal leader he once was again, with his 32nd on the season. He makes it look easy. How can you not love this top line?
Patrice Bergeron wins the faceoff.
Brad Marchand feeds the puck across.
David Pastrnak buries it.

2-0 Bruins. pic.twitter.com/GlhfHEEIPq

— Conor Ryan (@ConorRyan_93) March 22, 2019
After the game, Pasta said that he felt he played worse in this game than on Tuesday. Okay, Pasta.
Then, a former short-term Bruin ruined the game. Jake DeBrusk tried to get the puck out of the corner while bracing for a hit, sending the puck onto Stafford's waiting stick.
The @NJDevils get one back!@Pavel_Zacha sets up Drew Stafford to get the home team on the board! #NJDevils pic.twitter.com/DsV6RoyUxF

— MSG Networks (@MSGNetworks) March 22, 2019
Going into the third, the Bruins lead was cut in half, 2-1.
Then the third period happened. It was all Bruins from start to finish.
Danton Heinen 29 seconds in:
Danton Heinen snipe makes it 3-1 #NHLBruins in New Jersey pic.twitter.com/F3bxy1dFAV

— Marina Molnar (@mkmolnar) March 22, 2019
Patrice Bergeron with his 30th at 18:42. With this goal, it's back-to-back 30 goal seasons for Bergy for the first time ever. With his 3 assists on the night, Brad Marchand has amassed 90 points this season.
Brad Marchand is the first Bruins player to record at least 90 points in a season since Marc Savard in 2006-07.

— Conor Ryan (@ConorRyan_93) March 22, 2019
First he owns Twitter, then he owns a new meaningful stat.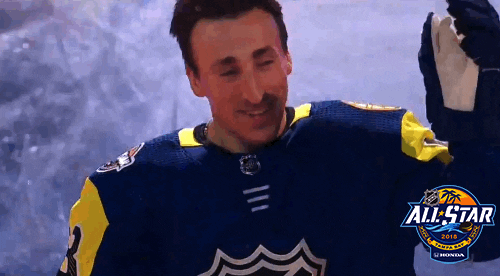 No. 30 for Bergy. ENG seals the deal. #NHLBruins up 4-1. pic.twitter.com/XaPoMO3IKY

— Marina Molnar (@mkmolnar) March 22, 2019
Then, a complete garbage time goal but one that was needed so very much by it's scorer. David Backes at 19:38 on a feed from Noel Acciari.
🚨GOAL!🚨

David Backes scores for the first time in 23 games!

Backes — Acciari (19:38) #NHLBruins 5#NJDevils 1 pic.twitter.com/JPGuicL0sY

— Boston Bruins on CLNS (@BruinsCLNS) March 22, 2019
The Bruins are heading to Florida for a long weekend. Extend this win streak boys!