It's time.
Time for playoff hockey.
To everyone's shock, the Bruins and the Maple Leafs will meet in the first round of the playoffs.
Tonight on NESN.
This is what you wake up for. #InOurBlood pic.twitter.com/52pzPK6nlm

— Boston Bruins (@NHLBruins) April 11, 2019
What do the lines look like? Well, pretty solid.
Sean Kuraly and John Moore are still injured, but most everyone else is back in the lineup. The one notable exception – defensemen Kevan Miller has been dealing with some soreness from an in-game knee injury a few games back. It's not clear whether he's truly unable to play or if they are just playing it safe by holding him out. Matt Grzelcyk has been skating primarily with Connor Clifton in the mean time. Clifton seems a bit speedier and is not afraid to throw a hit.
Brandon Carlo looks ready to play in his first NHL playoff game. And no one is happier than his defensive linemate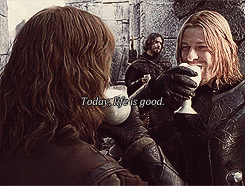 Bruins Forward Lines

Bruins Defensive pairs

Bruins Goaltending
#40 Tuukka Rask
(#41 Jaroslav Halak)



As far as the Toronto status, Toronto finished slightly behind Boston in the standings, with a record of 46-28-8 for 100 points and 5th place in the conference. They have been playing sub-.500 hockey to close out the season, but the playoffs start everything anew.
They have been putting up goals at an impressive rate, good enough for 3rd in the league for goals scored, and in spite of some questionable defense, have not allowed many more goals-against than the Bruins. There are no injuries to speak of on the Leafs' roster. Goaltender Michael Hutchinson had been away due to a personal issue, but should be back soon.
Babcock on status of Michael Hutchinson:

"They had the baby … Mom & baby are both healthy, a baby girl. I expect him to be back when he's ready to be back … Freddie is going"

— Mark Masters (@markhmasters) April 11, 2019

Hutch is the one who I most fear developing "hot goalie syndrome". Garret Sparks traveled with the Leafs in lieu of Hutch.
(h/t Daily Faceoff and TSN beat writer Kristen Shilton):
Maple Leafs Forwards
#11 Zach Hyman — #91 John Tavares — #16 Mitch Marner
#18 Andreas Johnsson — #34 Auston Matthews — #24 Kasperi Kapanen
#12 Patrick Marleau — #43 Nazem Kadri — #29 William Nylander
#42 Trevor Moore — #33 Frederik Gauthier — #28 Connor Brown

Maple Leafs Defense
#44 Morgan Rielly — #2 Ron Hainsey
#8 Jake Muzzin — #22 Nikita Zaitsev
#51 Jake Gardiner — #23 Travis Dermott

Maple Leafs Goaltending
#31 Frederik Andersen
#40 Garret Sparks

So let's do it.
Grab your favorite beverage and tuck in to the hockeyness of hockey in the playoffs!