There was something a bit off about last night's Game 4 in Columbus. While the Bruins led the game from early in the first period through the end of the third, it didn't feel like they were winning. It was one of those games in which one could easily believe that the scoreboard was in error except for when a goal was scored. The Bruins simply didn't look like a team that was winning the game.
It was easy to make that assumption based upon their general play on the power play. Sloppy play and puck mismanagement was the norm on virtually each power play opportunity with Columbus' penalty killers, especially Boone Jenner, jumping on the puck and easily making to down to a waiting Tuukka Rask, who really shouldn't have to work hard on his own team's power play. In the first period, Brad Marchand took a gamble and tripped up Jenner before he got a shot off, forcing a penalty shot which became an easy save for Tuukka Rask.
Making it look easy.@tuukkarask | #NHLBruins pic.twitter.com/mLPl5qSjaK

— Boston Bruins (@NHLBruins) May 3, 2019
Still, the Bruins remained on the power play, on which Patrice Bergeron scored the first of his two goals.
Patrice Bergeron picks a good time to bury his first goal of the Columbus series.

2-0 Bruins. pic.twitter.com/vHTawAprdU

— Conor Ryan (@ConorRyan_93) May 3, 2019
FIRED UP. LFG. pic.twitter.com/cGBXtbO2TG

— Marina Molnar (@mkmolnar) May 3, 2019
Finally, with the last man-advantage of the night, the Bruins wizened up, stopped playing the umbrella, put out 2 defenseman on the power play and gave up no breakaways. It only took 82 regular season games and 11 playoff games for the Bruins coaching staff to figure it out.
Get Pastrnak off the point. I'm begging you.

— Ryan Johnston (@Johnston985) May 3, 2019
David Pastrnak and the Terrible, Horrible, No Good, Very Bad Day. pic.twitter.com/BYsBm3os2T

— Conor Ryan (@ConorRyan_93) May 3, 2019
The Blue Jackets only goal of the game came with great controversy. The puck flew up out of play into the protective netting and bounced back into play, which ended up on Artemi Panarin's stick and eventually behind Tuukka Rask.
It appeared to me that the puck hit the protective netting.

— Joe McDonald (@JoeyMacHockey) May 3, 2019
No review on that play, apparently.

Yikes. pic.twitter.com/xtXni5NAo5

— Conor Ryan (@ConorRyan_93) May 3, 2019
I get it, the game is fast and the referees have a tough job, but not a single one tracking the puck going out of play is an embarrassment. Every goal matters in the playoffs and BOS just got hosed by one which resulted from a dead-puck. Unacceptable. #NHLBruins

— Bruins Network (@BruinsNetwork) May 3, 2019
The explanation came from the NHL and no one was pleased with it.
"It can only be reversed if you're immediately screwed, not screwed four seconds later." https://t.co/9fn1UOFvhu

— Ty Anderson (@_TyAnderson) May 3, 2019
The Bruins defense was pretty solid as was the penalty kill with your pairing of Zdeno Chara and Brandon Carlo sucking up a whopping 5:07 and 5:01 of short-handed time, with one PK shift lasting the full 2 mins for them.
And Tuukka Rask was awesome- sharp, engaged, focused. He went 39-40 with a save percentage of .975. Amazing.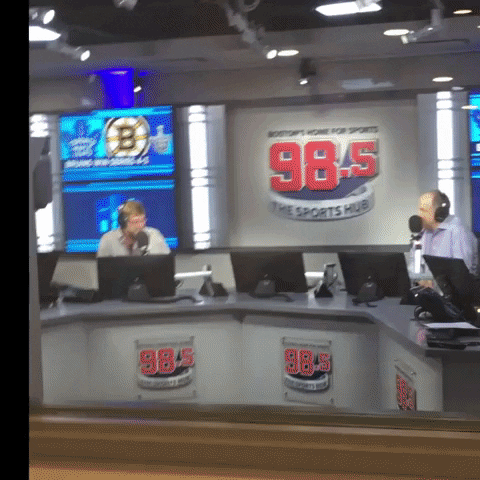 Here are the other goals:
David Pastrnak opens the scoring in Columbus, 1-0 #NHLBruins. MASSIVE goal for Pasta. Got lit up by Clendening earlier in the play. pic.twitter.com/qHSTsw9gM2

— Marina Molnar (@mkmolnar) May 2, 2019
SEAN FUCKING KURALY!!! 3-1 #NHLBruins pic.twitter.com/GstjBA48gP

— Marina Molnar (@mkmolnar) May 3, 2019
Patrice Bergeron taps in his 2nd PPG of the game, 4-1 #NHLBruins pic.twitter.com/8T0NWO20be

— Marina Molnar (@mkmolnar) May 3, 2019
So, even though the B's looked bad in situations, they played well enough in others. That top line produced 3 goals, which hopefully is just the beginning of the goal deluge for that line and others.