It's the third round of the playoffs, and the Bruins and Carolina Hurricanes begin game 2. Today, on NBC.
LET'S GO BRUINS!

It's mother's day, so happy day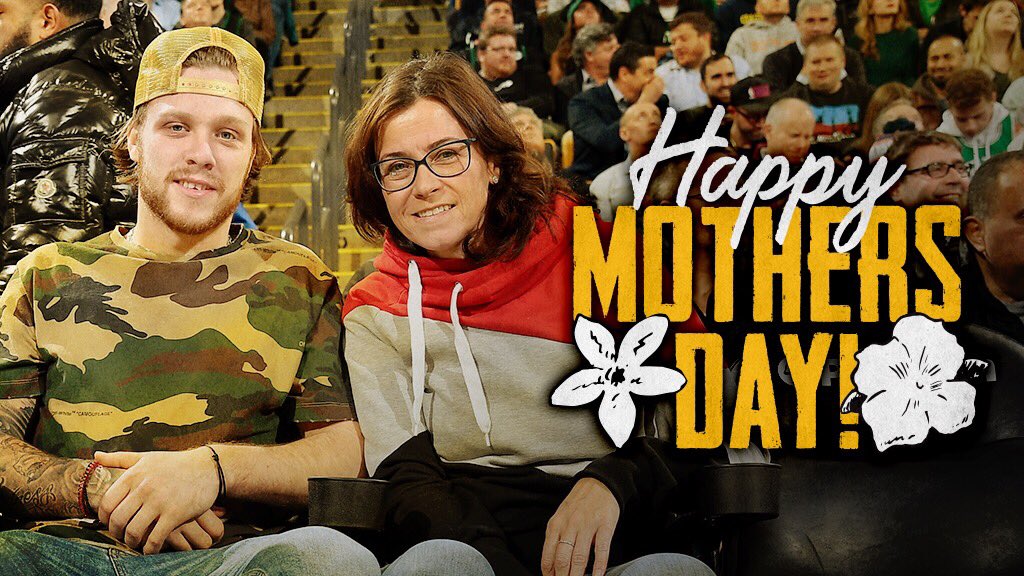 Awwwww…… Not let's go beat the shit out of each other!
(It is also Johnny Bucyk's birthday – Happy birthday, Cheif.)
Happy Birthday, Chief! 🎂 pic.twitter.com/blbIJKrDSp

— Boston Bruins (@NHLBruins) May 12, 2019
But there is still an Eastern Conference Final game today!
The quest continues.#NHLBruins pic.twitter.com/b4VFJFcU2o

— Boston Bruins (@NHLBruins) May 9, 2019
Last game started out on a high note for the Bruins, with them coming out on a tear, and dominating play for the first few minutes, including depth player Steven Kampfer scoring his first NHL playoff goal, and putting the B's on the board first. However, they would give up the lead after a set play on the first faceoff of a penalty kill.
The ice soon tilted toward Carolina, with the Hurricanes taking advantage of the Bruins' 2nd-period woes, and getting a lead with Gregg McKegg crashing the net.

The Bruins would come back for the 3rd period with renewed vigor, and controlled much of the play, being helped out by a couple of Dougie Hamilton penalties – scoring on both, and taking the lead. They would continue to a 5-2 victory.
What will be the lineup tonight?

Kevan Miller and John Moore are still out of the lineup with Miller not even skating at practices. Connor Clifton and Brandon Carlo were skating with Zdeno Chara in McAvoy's place last game, but McAvoy is back, baby! Steven Kampfer will go back to the 9th floor and Matt Grzelcyk will skate with Clifton today.
David Backes has been effective, playing on Krejci's right side, so the 74-46-42 line should make another appearance tonight.
4th-liner Noel Acciari missed the last game with an upper-body injury, and will miss today's game as well – but he was skating in practices and may be available for game 3. The Nordstrom, Kuraly, Wagner combo will have another game together.
Tuukka Rask will be in goal.
Bruins Forward Lines

Bruins Defensive pairs

Bruins Goaltending
#40 Tuukka Rask
(#41 Jaroslav Halak)



The Carolina Hurricanes are the opponent of this round. You may remember that late in the season they traded the frustrating opponent Vicktor Rask to the Wild in exchange for Nino Niederreiter.
The 'Canes are on a hot streak of late, sneaking their way into the playoffs structure as the 1st wild-card in the Eastern Conference, playing their way through the metro division. They defeated the Washington Capitals in 7 games and the New York Islanders in 4.
Current injuries include Trevor van Riemsdyk (Left Shoulder), Saku Maenalanen (Hand, IR), and some players who may be available to play tonight anyway — Micheal Ferland (Upper Body, inability to spell the name "Michael"), Jordan Martinook (Lower Body), Petr Mrazek (Leg)
Canes Forwards
#37 Andrei Svechnikov — #20 Sebastian Aho — #86 Teuvo Teravainen
#21 Nino Niederreiter — #11 Jordan Staal — #14 Justin Williams
#13 Warren Foegele — #71 Lucas Wallmark — #23 Brock McGinn
#79 Micheal Ferland — #42 Greg McKegg — #48 Jordan Martinook
Canes Defense
#74 Jaccob Slavin — #19 Dougie Hamilton
#22 Brett Pesce — #27 Justin Faulk
#4 Haydn Fleury — #44 Calvin de Haan
Canes Goaltending
#34 Petr Mrazek
(#35 Curtis McElhinney)
Game ✌️#NHLBruins pic.twitter.com/vZpeYlVank

— Boston Bruins (@NHLBruins) May 12, 2019
And who is the banner captain today?
Bobby Orr will be today's #NHLBrujns Fan Banner Captain. #CARvsBOS

— Shawn Hutcheon (@ShawnHutcheon) May 12, 2019

Oh.
Yeah….
LET'S GO BRUINS!
WHOOOO!