One thing that got lost in the shuffle of the NHL Draft was the fact that The Yeti, our former Swedish forward, cultural ambassador, and best friend to Loui Eriksson, Carl Soderberg was traded to the Arizona Coyotes.
TRADE:

To Arizona #Coyotes:
F Carl Soderberg

To Colorado #Avalanche:
D Kevin Connauton
2020 3rd RD pick (ARI)https://t.co/pOmLyOX15A

— CapFriendly (@CapFriendly) June 25, 2019
Sure, it wasn't the biggest trade of the day and he's certainly not the best player ever. But he was once ours, our enigma that we were sure wasn't real and then *poof* he was.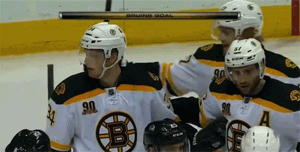 And then almost as quickly, he was gone.
I only hope that he'll find enough couture in the desert to keep him engaged or that Loui Eriksson gets traded there.