Last night in Quebec City, the annual Gagné-Bergeron Pro Am was held to raise funds for multiple children's charities throughout Quebec.
#BearTracks2019 is off to a strong start in Quebec City at the Gagne-Bergeron Pro-Am, where @Bmarch63 and other stars from around the @NHL are ready to take the ice in Patrice Bergeron's annual event that benefits children's charities pic.twitter.com/qLL6OyIur4

— Boston Bruins (@NHLBruins) August 8, 2019
Along with the captains, former Bruins player Simon Gagné and current Bruins alternate captain, Patrice Bergeron,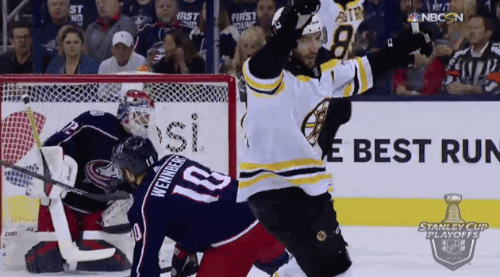 many NHL players would be there. Bergy's teammates, Brad Marchand and Charlie McAvoy, also played in the game.
Outside of the game, the big event was the appearance of the three Stastny brothers- Peter, Anton, and Marian. The Statsny brothers were on hand for a statue dedication marking the time they defected from Czechoslovakia and all played for the Nordiques.
Speaking of the Nordiques, Patrice was a big fan. In this poorly translated article (here's the original), he explains that while he was a bit young to be a fan of the Stastnys, his family was otherwise taken with them.
He is delighted that tomorrow night's Pro-Am Gagné-Bergeron, at the Vidéotron Center, coincides with the inauguration of the statue in honor of the Stastny brothers, in the afternoon.

"My time is Joe Sakic and a little Peter Forsberg," says Bergeron.

"I have parents and grandparents who were also big supporters of the Nordiques. And all they talked to me about was Peter Stastny and the Stastnys! "

"For me, the Stastny brothers represent the Nordiques. This is the first image that comes to me when I think of the Nordiques. They had an incredible impact that is still felt today. It will be a nice tribute on Thursday. I'm glad it's at the same time as the Pro-Am, I'll have the chance to be there and see the statue, "he continues, he who will retrieve his glasses simple supporter for a moment.
I'll be honest, I have no idea what that last part about retrieving glasses is about. I think it's the idea that he will be a fan for that moment.
The events raised about $450,000 (CAD) for the children's charities.
Now I cannot wait for the Staying Connected Facetimes between Patrice, Charlie, and Brad…while they're all sitting right next to each other…In Quebec City.