We're back from our long weekend road trip to Indianapolis. It's a fun city with a lot of public art, hip dining establishments, and a lot of breweries and brewpubs. People are so friendly out there! We stayed at a neat-o art hotel called The Alexander. It was named after the city designer!
On the way there through Pennsylvania, I discovered that I am in the bad place, that my husband is actually a demon sent to torture me, and that torture was called "driving with 18-wheel trucks surrounding me on a road under construction with two narrow lanes and a concrete barrier on one side of the car".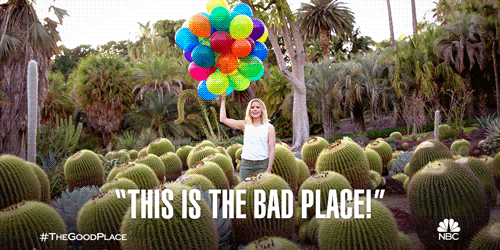 Anyway, enough with that.
This weekend there was the rumor that came from NHL Network that David Backes was possibly injured. With this news, Boston Bruins fans were surprised but relieved because our long national nightmare of not having our top two right D might end with their signings provided by this boon of cap room.
Bruins projected opening night D pairings:
Chara-Cap Space
Krug-Cap Space
Grzelcyk-Clifton

Wow.

— ETD51 (@ETD51) September 4, 2019
It seemed that the Bruins might be ready to throw a couple of bodies on the scrap heap send a couple of players in Backes and Kevan Miller on an all expense paid but cap scuttling trip to Robidas Island. This is a trick that many teams have used for players with legitimate injuries (and some less so), but the team might not be able to do so once players report for team physicals. Why? Because David Backes' agent insists that there is no injury.
So, the light at the end of the tunnel is fading. Carlo and McAvoy remain unsigned and the Backes contract threatens to sink the ship. Training camp starts next Thursday. Will there be a cap space miracle by then?