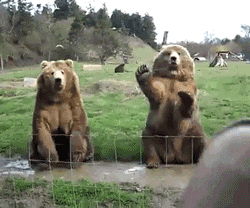 Hey guys, we made it through another week of social distancing! Instead of writing up yet another article on what Gary Bettman has to say about The Pause and The Reset or what some Bruins player said on a chat with the press/ STHs, I thought I'd just say this:
It's May!
It's spring!
And we all only have about 3456 days to get through this whole deal with The Rona.
This weekend, we would have celebrated Polish Fest in Boston for the first time in 2 years (last year was difficult) and probably watched a Bruins playoff game with Stanislaw and Princess Polonia but it was cancelled. So, this weekend's Zoom meeting will be our defacto Polish Fest. Grab your OK Beer, kielbasy, and all of the pierogi, wave hello to Princess Polonia and pretend that you're missing the re-enactment of the Battle of Pulaski Mulch even though it's right in front of you. See you then!