It's Monday which we all feel deep down in our bones.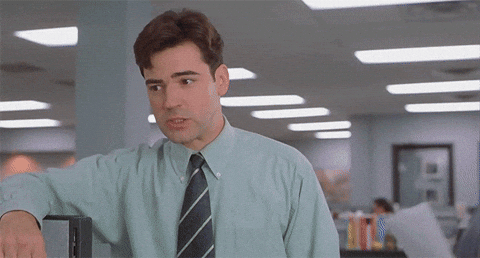 And it's officially November and it promises to be the most November that has ever Novembered. I mean, in some ways this whole year of the pandemic is like one long November.
November is my least favorite month. Everything seems grey. It gets dark outside earlier (thanks Daylight Savings time). And it eventually brings on the holiday season. Oh, and we have a potentially contentious election this week. For those of us who suffer from depression and anxiety, this month can really be a tough one to get through. But luckily we live in a progressive society that has empathy for people who have those and other forms of mental illness, right?
Not so fast.
Hockey is for everyone, right? Well, not in Illinois if you're teenager playing elite hockey. Morgan Urso had a goal of playing in the top tier of youth hockey in Illinois, Team Illinois, and she did just that. Unfortunately, once she started to experience depression and anxiety, feeling unwell enough to stay home from school and practice, she found that hockey wasn't for her. It was when she was honest with her struggle that she was told that she needed to take a leave of absence from the team by her coach. When the coach sought guidance from the governing body of Amateur Hockey Association of Illinois, they chose to cut her from the team and refund her playing fees. It seems that this was a misguided effort based upon an incident involving suicide pact among two unsupported teens in the past.
Of course when Megan was feeling better and was 100%, she would be welcome back. Mental illness is not like a broken ankle which will heal or a bug like mono, which one will eventually recover from. It's a daily battle in which some days you just struggle more than others. When treatment works – whether it's medicine, therapy or often, both – you can manage most daily activities just fine. But not every day is so easy.
Urso decided to donate that money to a non-profit called Same Here Global Mental Health Movement, an initiative to end the stigma of mental helath issues and create a conversation about it. She was inspired by former Blackhawks goalie, Robin Lehner, whose face mask had the hastag SameHere on it; Lehner has been open and honest about his own issues but is getting his life back together. The founder of the movement was interested as to why the amount was so specific. Eventually, he contacted Megan and her family and intrioduced her to a former player, Rob Schremp, who has been a mentor of sorts having gone through similar issues during his playing career.
Urso rejoined Team Illinois for a spell late last season but was creeped out by a parent who served in a capacity as a safety officer, following her around everywhere. This obviously made her feel uncomfortable. This year she's playing hockey at high school and in a lower tier of hockey within the state so that she can rediscover her love of playing.
It sucks that the adults failed her but it's part of a larger problem within our nation, even the world, that we struggle with mental health issues. Just tweeting #BellLetsTalk on that day in January isn't going to change it. Realising that everyone is going through their own struggles and trying to have empathy for others is a step.
Mental illness shouldn't be treated like it's contagious. People who have mental health issues shouldn't be ostracised, segregated, or treated like they're fragile. They should be treated with respect, especially when they can speak their truth.
That would be a good start.