The NHL has compiled a new list of the top 10 goalies right now. You may not be surprised by who is number 1 but the netminder at 10 just might.
The wait is over! Here are our Top 10 Goalies Right Now. #NHLTopPlayers pic.twitter.com/mFk9HkTaFb

— NHL Network (@NHLNetwork) November 23, 2020
Andrei Vasilevskiy, Tampa Bay Lightning; it's not a surprise that the 2019 Vezina Trophy winner and recent Stanley Cup Champion is at the top of this list. He finished in the top 3 in 2020 Vezina balloting after posting a .918 save percentage during the regular season and a stunning .927 in 25 playoff games, with a goals allowed average of 1.90. It's hard to get a puck by him.
Tuukka Rask, Boston Bruins; I almost, but not quite, feel bad for that contingent of Bruins fans who always call for the trade of this sparkly BAMF. Sure, he opted out of the NHL bubble early in their series against Carolina and that did not help his cause, but his stats (.929 SV%, 2.12 GAA) show that Tuukka is a great goalie. Along with his backup, Jaroslav Halak, he won the William M Jennings trophy for allowing the fewest goals. So screw those guys.
Connor Hellebuyck, Winnipeg Jets; Current Vezina winner who took on the brunt of the netminding for a mediocre team. He's the only reason they won games last season. Perhaps he should be sainted.
Ben Bishop, Dallas Stars; Did he even play last season? He did and he shared the load with one of our favorite dudes. Unfortunately, Bishop will be out for a few months after the season eventually starts due to meniscus surgery of his right knee.
Jordan Binnington, St. Louis Blues; Throw this shitbag in the Bin(nington).
Carey Price, Montreal Canadiens; I feel like he's always an obligatory add to these types of lists. Like Bergeron is to Selke contention, Price is to top goalie lists.
Darcy Kuemper, Arizona Coyotes; Again, another goalie who propped up his team.
Robin Lehner, Vegas Golden Knights; He's all but succeeded Marc-Andre Fleury as the Golden Knights primary goalie. He seems to keep getting better each year.
Jacob Markstrom, Calgary Flames; Markstrom had a career season with the Canucks and helped them get to the postseason but they couldn't afford to keep him. Calgary hopes that he'll be able to do that and thensome  for the next 6 years.
Anton Khudobin, Dallas Stars; Dobby carried the team when Bishop couldn't perform ad he almost won them a championship. He's the best backup goalie and teammate there is!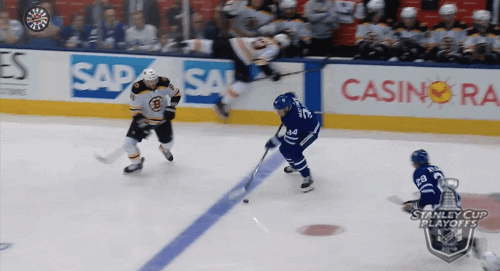 What's surprising about this list is the absence of young goalie and future Bruin, Carter Hart. His stats are better than Jordan Binnington, who made it on the list. Maybe it's anti-Gritty bias: since Gritty loves him so much, no one can vote for or have him. I guess we can thank Blades for not being that way.