Hi! How was your Thanksgiving or normal Thursday? I spent all day in the kitchen baking on Wednesday and most of the day on Thursday cooking. I only burned myself once. No, twice. Actually, three times. But all is well. IW even liked all of what I made and praised me when talking to his father.
Some news dropped Wednesday afternoon that is especially sad for Bruins fans; Johnny Boychuk's professional hockey career has come to a end. As you may remember, before the season was paused in March, Boychuk sustained a terrible injury to his right eyelid when he took Artturi Lehkonen's skate blade to his face. Apparently, this was the second injury to this eye. After a battery of medical exams, the team doctors determined that there was something wrong with his eye and that it was serious enough to halt his career.
"I knew there was something going on, but I didn't really want to think about it because I wanted to play," Boychuk said. "You try to play through everything, and I did. Then when I got the tests done, it was an eye opener, I guess."

"It wasn't really a decision. It was a life choice I guess"
Johnny Boychuk getting emotional talking about the news today. Damn.
pic.twitter.com/eYEma5M8qg

— Rob Taub (@RTaub_) November 25, 2020
Boychuk reportedly told people that his eye was perfect months after the injury. It wasn't. In an effort to continue playing hockey, he was willing to lie to himself and sustain further injury because he couldn't see properly out of his eye. He wouldn't be the first player to do that — playing with the ability to see only out of one eye, that is.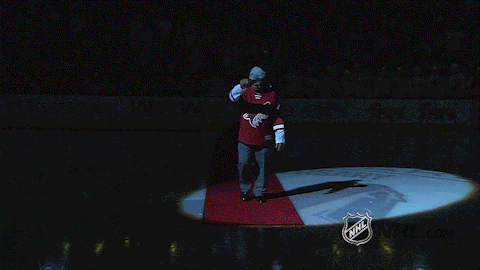 Still, it's sad that Johnny's career has to end and not on his own terms.
The Bruins want to wish Johnny Boychuk all the best in his retirement. Thank you for helping to bring the Cup back to Boston. @joboych pic.twitter.com/xOp6tH3Xxn

— Boston Bruins (@NHLBruins) November 25, 2020
Johnny Boychuk didn't take easy road to NHL. Providence was his 5th AHL team in 5 seasons. Playing for Rob Murray & Bruce Cassidy in 2008-09, he scored 20 goals & won Eddie Shore Trophy as league's best defenseman. The next year he was in Boston

— Mark Divver (@MarkDivver) November 25, 2020
Totally forgot this one from today, Johnny Boychuk's final moment as an Islander consoling Mathew Barzal after the team was eliminated in game six
pic.twitter.com/Rb1kuJbZVP

— Rob Taub (@RTaub_) November 26, 2020
As of November 25th, the Islanders have moved Johnny Boychuk to LTIR for the final two seasons on his contract, freeing up $6 million for this season and next in a flat cap period. As of now, the Islanders have $3,905,833 in cap space with the ability to spend up to $6 million more. Cynics look at this move as convenient for the team who have to sign RFA Mathew Barzal. The timing does seem fortunate.
Now that Boychuk has retired, there's one less Bruins 2011 cup winner left in the NHL.
We love you, Johnny. Good luck in future endeavors!