When getting ready to write a post, I often think about whatever news I might have heard or read that day and then try to find a way to express that in an interesting way, a sarcastic way, or in many cases, in a way that expresses my love of the medical and medicinal. Naturally, when I heard an update about an injured Bruin, I wrote something up right away, intending to publish it today. Well, the rest of yesterday happened, so that article was pushed until tomorrow. Now, I find myself writing something much later in the day (on a day in which my primary opponent was myself) and have to parse two different sets of news into one piece. More work today means less tomorrow, right?
Actually, they're kind of related.
One: Another Bruins player has been placed into the COVID protocol. This time it's Brandon Carlo.
#NHLBruins defenseman Brandon Carlo placed in @NHL COVID-19 protocol: https://t.co/ISfZrTz43i

— Boston Bruins (@NHLBruins) December 21, 2021
If you want to know how I'm feeling: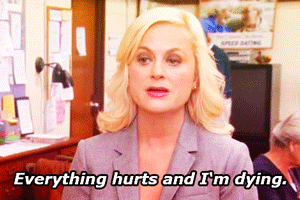 He is the now the 10th Bruins player to enter the protocol.
The Omicron variant has overtaken the Delta variant in just two weeks. When it was first noted in the US, it was responsible for 0.4% of all new infections. Last week, the CDC stated that the strain was found in 13% of new cases. This week, that number has jumped to 73%. While the new variant is highly contagious, it also comes with some reportedly light symptoms. Luckily, those who have been fully vaccinated are likely to only experience something that feels like a cold. I mean, our own LB hasn't felt all that bad, so that's good.
🎥 Coach Cassidy on the #NHLBruins in COVID-19 protocol: "Nobody has become severely ill. A couple of guys had a few symptoms. Other guys none. I anticipate everyone that is eligible and meets that 10 days or tests out of it…they will join us on the ice on the 26th, I believe." pic.twitter.com/o7zTubSfTq

— Boston Bruins (@NHLBruins) December 21, 2021
The NHL has decided to not send players to Beijing for the Olympics citing the Omicron variant as an issue.
No surprise, but #NHL + #NHLPA are in agreement that NHL players will not participate in #Beijing2022 Olympics. Once they notify IOC, an official announcement will come – perhaps as soon as today, maybe later this week.

Now, question is: Will 2022 Olympics be postponed to 2023? https://t.co/8aR0aKmqNl

— Frank Seravalli (@frank_seravalli) December 21, 2021
Seravalli brings up an interesting point: could they just postpone by a year like the Tokyo Olympiad? If they could and would, it would give players who had hopes of competing for their countries for the first and maybe only time a chance to compete, like Brad Marchand.
If NHL is pulling out of the Olympics, it stinks for over-30 players like Marchand, Stamkos, Hedman, Kadri, Haula, etc., who had good shots at being first-time Olympians. Same goes for coaches like Cassidy (56) — will he get another chance in 2026?

— Matt Porter (@mattyports) December 21, 2021
There is more to come on this for sure.
Finally, this has nothing to do with anything above, I just like the story. We all could use something to lift us up.
Dylan Larkin bumps into the glass during warmups and spills a fan's beer. He feels bad about it and then reveals that he's just a good egg.
Larkin knows those arena beers are expensive 😂👏pic.twitter.com/KqRG278BLm

— Hockey Night in Canada (@hockeynight) December 21, 2021
It's hard to not to love this kid. He's good for Michigan, good for Detroit, and good for hockey.