Last night's game between the Bruins and the Canadiens was a blast. It really felt like a rivalry game because both teams chose violence early. You could really feel the hatred in the first. Said every Bruins fan, with regards to a game against the Habs: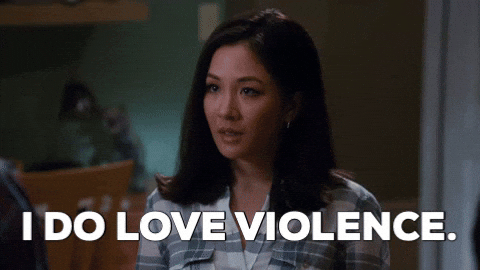 It started when Rem Pitlick decided to hit Patrice Bergeron behind the play, late and high. Brad Marchand said, "No, I will not abide."
Say what you want about Brad Marchand but he is NOT a bad friend pic.twitter.com/cJhDtCpebw

— Pete Blackburn (@PeteBlackburn) March 23, 2023
Jim Montgomery on if he approved Marchand's takedown:

"Yes. You don't hit our captain late." https://t.co/Lzvy1R5XKH

— Conor Ryan (@ConorRyan_93) March 24, 2023
Pitlick was served an interference minor while Marchy got a double (partly served by Trent Frederic) allowing the Canadiens to have a power play, on which they didn't score.
Of course, in starting in on the violence, I neglected to show the goal that was scored by Tyler Bertuzzi, a flukey one that proves the adage, "you miss 100% of the shots that you don't fling backwards and hope bounces off a couple of the opposing players before crossing the goal line."
BERT'S ON THE BOARD! pic.twitter.com/8Ba8pMw7pr

— x – Boston Bruins (@NHLBruins) March 23, 2023
It's refreshing to see Charlie McAvoy stand up for his goalie after all the times he threw opposing players into Tuukka Rask. This time he decided to take out Jake Evans for daring to spray Jeremy Swayman.
Charlie McAvoy was NOT a fan of Jake Evans spraying and bumping into Jeremy Swayman: pic.twitter.com/bHv2ewWE0D

— Evan Marinofsky (@EvanMarinofsky) March 23, 2023
Swayman was also not having it.
Listen man, all I'm saying is that the typically mild mannered Jeremy Swayman wants the smoke tonight.

— Ty Anderson (@_TyAnderson) March 24, 2023
Jake Evans would continue to get McAvoy's attention throughout the game.
Jake Evans gets a large dose of Charlie McAvoy and a small dose of Brad Marchand: pic.twitter.com/U3CPu1MuRt

— Evan Marinofsky (@EvanMarinofsky) March 24, 2023
Jake DeBrusk is on a tear right now, 4 goals and 3 assists in the last 4 games.
Jake DeBrusk. Goals in 4 straight and this one is a beauty pic.twitter.com/cme7QrzPeY

— Spoked Z (@SpokedZ) March 23, 2023
Jake makes it 2-0.
Then AJ Greer made the biggest argument for why Jakub Lauko probably should have played last night. Whereas Greer is great at taking penalties, Lauko is the opposite. Greer was goaded into cross-checking Mike Hoffman on a faceoff and he chose to go for his face. Greer was "rewarded" for his efforts with a major penalty for cross-checking and a Game Misconduct, resulting in his being tossed from the game. Greer could be facing a suspension.
AJ Greer gets Hoffman in the face and gets 5 and a game pic.twitter.com/fOV5SZPAlY

— Spoked Z (@SpokedZ) March 23, 2023
Nick Suzuki gets Montreal on the board during the 5 minute power play. It should be noted that Derek Forbort is still out.
Bruins head into the second 2-1.
The mood calmed in the second but the scoring continued. Early in the period, David Pastrnak scored his now single season best 49th goal.
New career high in goals for David Pastrnak (@pastrnak96). 😮‍💨 pic.twitter.com/sazXd6G7dP

— NHL (@NHL) March 24, 2023
Later on, Garnet Hathaway was called for holding Nick Suzuki's stick (phrasing?) and Kirby Dach made the Bruins pay. (Again, no Derek Forbort.) Bruins hold a slim lead 3-2.
In the third, David Krejci put it away.
David Krejci beats Rem Pitlick to the net and makes it 4-2 Bruins.

(Also a really nice play by Connor Clifton): pic.twitter.com/ee5Z2Ml3oP

— Evan Marinofsky (@EvanMarinofsky) March 24, 2023
Maybe Krejci was feeling extra cool since this was how he skated at Warrior earlier in the day.
Casual Thursday for David Krejci. pic.twitter.com/gzfxdhVtgT

— Conor Ryan (@ConorRyan_93) March 23, 2023
The Habs never caught up despite taking twice as many shots as the B's and going empty net. In fact, Jeremy Swayman tried to take his own shot at a goalie goal. He didn't get it.
Bruins are 55-11-5. pic.twitter.com/pEMgVvYM1q

— Conor Ryan (@ConorRyan_93) March 24, 2023
"There's nothing compared to Linus… There's no one I'll ever meet like him again"

Jeremy Swayman on his bond with Linus Ullmark | #NHLBruins pic.twitter.com/GwrEqQsTq9

— NESN (@NESN) March 24, 2023
And lastly: to answer a question that I saw all too late yesterday: after the playoffs start, the cap doesn't count anymore. This allows teams to stack their rosters for the playoffs in hopes of winning the war of attrition and the Stanley Cup.
While I'm humbled to be called a cap guru here, I know just a tiny bit about cap gymnastics. I always learn more every season.